Gary Cahill says Chelsea are being asked to play a 'ridiculous' number of games
Gary Cahill thinks Chelsea's gruelling fixture list is harming their chances of qualifying for the Champions League.
Last Updated: 26/02/13 8:17am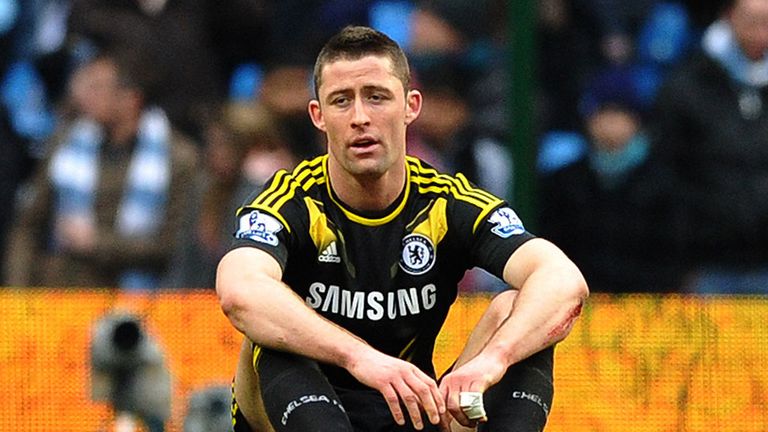 Sunday's 2-0 loss at Manchester City was Chelsea's 46th game of the season, five more than Arsenal, who have played the most games out of their immediate rivals for a top four spot.
Chelsea's international players have not had a week's rest since losing the European Super Cup to Atletico Madrid on 31 August and central defender Cahill told Chelsea TV that the demands being placed on the team are having an effect.
"Unfortunately, it does take its toll," he said. "I think sometimes a little bit of fatigue plays its part.
"We haven't had a clear week for about 29 weeks and you're expecting to go into games feeling 100 per cent fresh, trying to push on further in all competitions.
"They (Manchester City) had a clear week and we've had a ridiculous amount of games. I think it told, I thought they were a lot fresher and sharper."
The Chelsea defence managed to thwart a series of Manchester City attacks before Yaya Toure and Carlos Tevez were on target after the break.
And Cahill added: "I had way too much (to do).
"Normally, at a big club, you probably get asked to do three or four important things in a game but we probably had 20 or 25.
"Unfortunately, if you keep getting asked the question, ultimately there's going to be a goal. I felt they were on top of us for most of the game. They just kept coming at us and coming at us.
"You defend one and defend two but, sooner or later, one is going to go in and that's what happened.
"We didn't really create many chances. We had to defend as a team a lot and we paid the price in the end."
There is no respite for Chelsea because they are at Middlesbrough in the FA Cup on Wednesday, play host to West Brom on Saturday, and then travel to Steaua Bucharest for the first leg of a Europa League tie next week.
"It's something that we have got to deal with," said Cahill. "We've got the two cups and obviously trying to get the Champions League spot.
"That's our aim from now until the end of the season, that's our focus. We have to go again.
"All three are in our own hands so we need to keep going and plug away and make sure we achieve the goals we want to achieve."