Transfer news: David Beckham could extend Paris Saint Germain stay
David Beckham has suggested he would like to extend his stay at Paris Saint Germain when his current deal ends in June.
By Patrick Haond
Last Updated: 01/03/13 5:25pm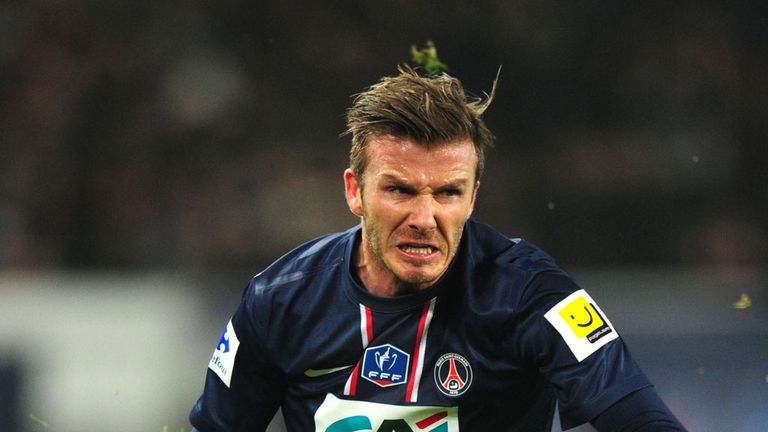 Former England captain Beckham joined PSG on a short-term deal last month after leaving LA Galaxy.
The 37-year-old made his first start for the club in the midweek French Cup win over Marseille after making a late cameo appearance against the same opposition in Ligue 1 last weekend.
The former Manchester United and Real Madrid midfielder believes he still has a lot to offer and he insists he has plans to play on for as long as possible
"I know I am under contract only for six months, but I really want to contribute to PSG becoming a great club," Beckham told L'Equipe.
"At my age, I cannot get a two or three-year contract, I take each year as it comes.
"If I still feel fit, I will go on playing."
Beckham is delighted to be part of the PSG set-up in such an exciting period in the club's history as they look to establish themselves as a major European force.
"PSG is a great and respected club," added Beckham. "What the chairman and Leonardo (sporting director) are trying to do is to lead PSG to become a great European power. They will succeed and people in Paris start to realize it.
"So it is a special moment in the club's history that gives a special feeling."
Beckham also rejected the notion that his arrival at the Parc des Princes was just a ploy to raise PSG's profile and insists he is not bothered about the suggestion that he is a marketing tool for the club.
Beckham added: "Am I upset people talk about me as a marketing icon? Not at all.
"If I can help selling a lot of shirts, that is no problem, that is fine! It is great to see so many people wearing my shirt. In most of the clubs where I played I heard the same, I came to sell shirts.
"It was like that at Manchester United, Real Madrid, AC Milan or Los Angeles Galaxy. I am very proud people are buying my shirt, but I can still play a bit of football too, I can assure you."