Inter Milan face injury crisis ahead of Europa League tie with Tottenham
Andrea Stramaccioni admits Inter Milan's plans of stopping a rampant Gareth Bale have been dented by an injury crisis.
Last Updated: 07/03/13 7:15pm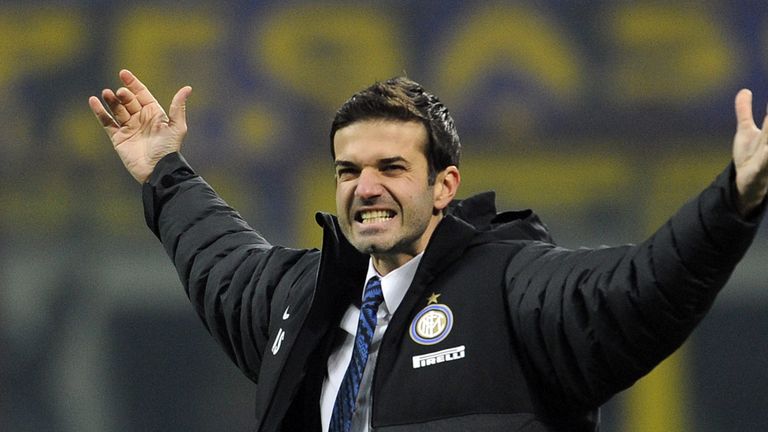 Bale first stunned the San Siro when he scored a brilliant hat-trick in Tottenham's 4-3 Champions League loss in 2010, and then went on to dominate highly-regarded Brazilian right-back Maicon when Spurs won the reverse fixture 3-1.
Stramaccioni's side were hoping for revenge on Thursday, but the Nerazzurri are without defenders Matfas Silvestre and Yuto Nagatomo, while serious doubts remain over the fitness of international centre-backs Andrea Ranocchia and Walter Samuel.
The Inter boss, who has had to call six youth players up to his squad for the clash, said: "My team should be aware of Bale's strengths, but obviously, the problem now is I don't have too many players available.
"This is a very important game for us, but unfortunately we have lots of injuries.
"We gave a few of them tests this morning, but most of them are still struggling and we don't want to risk anyone.
"The Europa League is important, but we don't want anyone to get longer-term injuries. Our main target is third place in our league.
"That's why we brought six young players here. It's going to be difficult."
Stramaccioni is aware of Bale's talents having tracked the Welshman closely since it was confirmed that his team would face Tottenham in the last 16.
"Bale is one of most complete players in Europe at the moment," he said.
"He's proving he's becoming very decisive. He scores a lot and that is what distinguishes a good player from a great player.
"We have great players as well, but that doesn't take away the fact that we respect Bale, and all the great players they have like Aaron Lennon and Jermain Defoe too."