Chelsea defender David Luiz is hopeful of knocking Manchester United out of the FA Cup
David Luiz believes Chelsea can take advantage of Man Utd's Champions League woes by knocking them out of the FA Cup.
Last Updated: 10/03/13 3:39pm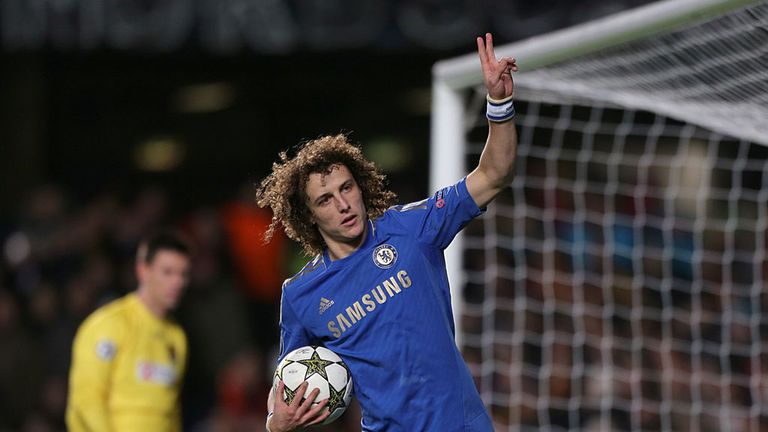 United saw their treble and European dreams come to an end on Tuesday night after Real Madrid overcame them at Old Trafford.
It was United's first defeat since December and Luiz feels this could be the perfect time to face their Manchester counterparts as Chelsea travel to Old Trafford for an FA Cup quarter-final tie.
"It's difficult when you have been knocked out of an amazing competition like the Champions League because your confidence is not the same after," said Luiz.
"The happiness in Manchester United's hearts will not be there and Chelsea can use this to win our game on Sunday. United will be playing at home but some players and supporters will be thinking 'it's not the Champions League' and it will be difficult for them to come in with the same form."
Meanwhile, Luiz has backed team-mate Oscar to become one of the best players in the world.
Luiz says he is trying to help the Brazilian's development and admits the playmaker's biggest problem is his shyness.
"I try to help him every day with this [his shyness]. I tell him he's an amazing player with the talent to make the difference and change every game. I tell him to be happy and trust in his football.
"Some players need this. My job is to give confidence to the guys like Oscar.
"He is so shy but I say, 'come on, you have the quality to be in a side with the best players in the world and you have the opportunity to show that'.
"Some guys in Brazil don't, they have the quality but they don't have the opportunity to come to Europe and show the world what an amazing player they are. So, I say, 'come on, don't be shy, show your quality'.
"He is a young guy who wants to learn every day. Every game now he is more intelligent. He can grab the game and he's waiting for the moment to decide the games.
"When he first came he was so excited and wanted to do everything. With the first ball, he wanted to shoot. But now he's more mature. We need this guy for a long time at Chelsea."