Roberto Mancini dismisses reports that Manchester City could sign Wayne Rooney
Manchester City boss Roberto Mancini has played down his chances of luring Wayne Rooney away from Manchester United.
Last Updated: 08/03/13 3:10pm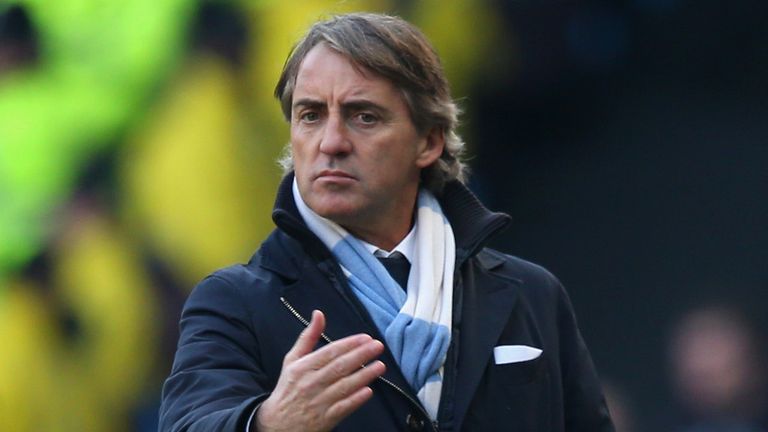 Rooney's omission from United's starting line-up in the Champions League defeat by Real Madrid stirred up frenzied speculation about the striker's future, but manager Sir Alex Ferguson insists he will remain at Old Trafford.
City were linked in the past with Rooney during his contract stand-off in 2010 and Mancini was asked whether he would test United's desire to keep the England international.
But the Italian does not think he has a realistic chance of tempting Rooney to move across Manchester.
"I think that Rooney is one of the best strikers in Europe but I think it is difficult he can leave Man Utd - I don't think (so)," he said.
Mancini insists such minor fall-outs are commonplace in football and expects Rooney to quickly put his disappointment behind him.
The Italian said: "I don't know. I don't know this situation.
"I can understand maybe Rooney would be upset if he didn't play but these are things that can happen in every team. After one week it is finished."
A report suggested the departure of City striker Edin Dzeko to Borussia Dortmund could pave the way for Rooney's exit from United.
But Mancini insists he is not aware of any interest in Dzeko, who is the club's top scorer in the Premier League with 12 goals.
He said: "At the moment, there is nothing. In the end, maybe, I don't know. In the summer, it could be possible.
"Dzeko is an important player for us. We want that he stays here."
Mancini also admitted that Manchester United's Champions League exit was not a good omen for City's hopes of retaining their league title.
"It is clear now it is worse for us because they can put all their strength in the championship," he added.
"It was better they stayed in the Champions League. When you play an important game every three days it is more difficult.
"I think they have an advantage because 12 points are too much but our job is to try until the end of the season."