Brendan Rodgers says Liverpool operating at high level ahead of Spurs clash
Liverpool manager Brendan Rodgers says his in-form side are on a high ahead of their Sunday clash with Tottenham.
Last Updated: 10/03/13 3:05pm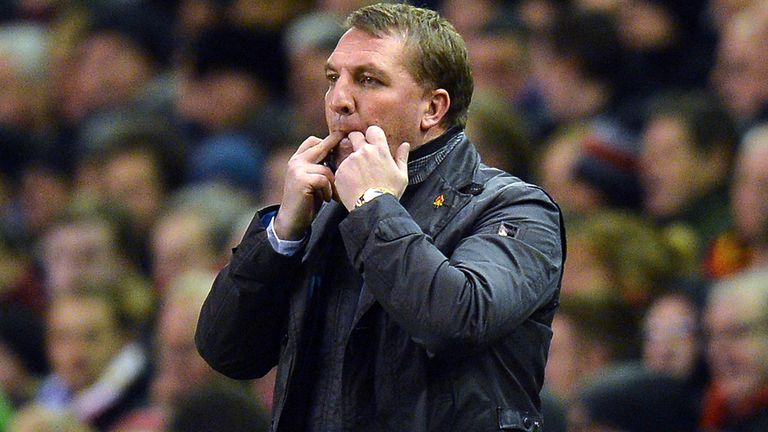 Rodgers' men put five past Swansea in their last home Premier League game and then cruised to a 4-0 victory at Wigan last Saturday.
And the manager said: "It was a brilliant performance last week and we're just focusing on the next game, which will be a fantastic game against Tottenham.
"The tipping point now is that it's going more for us than against us. We've played a lot of really good games this season but maybe weren't as cohesively good then as we are now.
"We've played 28 games and, after 14 games, we were 12th in the league. If you take the points total from the following 14, we'd be third.
"It's going how I thought it would go, which would be improvement as the players became accustomed to how we work.
"Because of the great attitude of the players, they're getting the rewards. At this moment in time, the level is very high, and we want to continue with that."
Liverpool goalkeeper Pepe Reina impressed at Wigan and Rodgers thinks the Spaniard can remain in goal for the Reds for years to come.
"Pepe has made comments himself, saying that, at times, he can be better," said Rodgers. "But what I know I get from Pepe is that he always gives his best.
"Last week, he made outstanding saves at critical moments of the game. His preparation has been spot-on, he's training well, and working very hard. He's now starting to get the rewards for that.
"We're up to 11 clean sheets now, which is up there with the top teams in the league.
"Defensively we've looked strong. The balance in the team has been good and Pepe has been a big part of that. He's still a young man and, at 30 years of age, you can still improve.
"Look at the likes of Edwin van der Sar, who played at the top level until he was 40.
"Goalkeepers can go on that bit longer, as long as the preparation is right, and they focus and want to do better. There's no reason why Pepe Reina can't."