Ryan Giggs says the dismissal of Nani against Real was a huge shock
Ryan Giggs says he has never been so surprised on a football field as he was when Nani was sent off against Real.
Last Updated: 10/03/13 11:58pm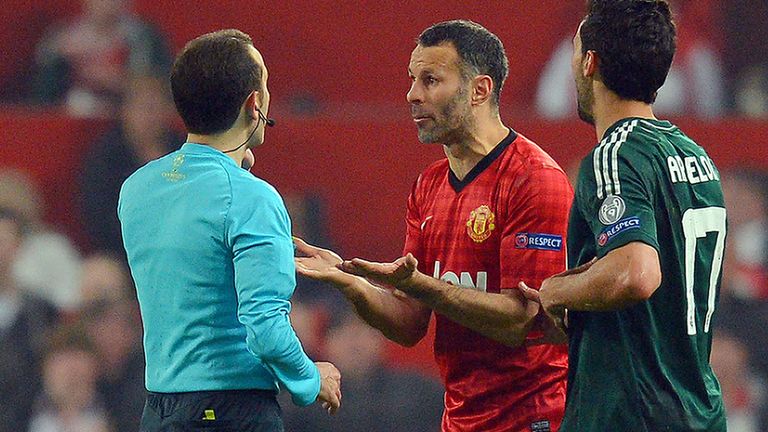 United were leading the Champions League clash 1-0 on the night at Old Trafford and 2-1 on aggregate but Nani was then surprisingly dismissed for a challenge on Alvaro Arbeloa and Real went on to score twice and knock United out.
And the 39-year-old Giggs, who was playing in his 1,000th career match, told the Mail on Sunday that the red card came completely out of the blue.
"I'd initially gone over to tell him (referee Cuneyt Cakir) that Nani was looking at the ball," said Giggs. "I've gone back to my position on the edge of the box, because they've got a free-kick.
"I was actually looking at the referee when he did it (showed the red) and I've never, ever experienced a shock like it on a football pitch, because I just didn't expect it. And I've never seen a stadium in shock like that."
However, Giggs also praised a fine strike from Real's Luka Modric, who came off the bench to score the equaliser before United old boy Cristiano Ronaldo bagged the winner.
Giggs said: "The only thing I could think was, 'right, let's try and stay compact. Let's try and ride it out'.
"I think we did that but you can't really say anything about the goal, it was brilliant by Luka Modric."
The Welshman added that United should be pleased with how well they played against the Spanish giants.
"I probably haven't felt that disappointed for a long, long time but, somewhere in your head, there are so many positives as well," he said.
"I think we performed so well, we made Real Madrid look ordinary at times. It was a proper European performance."