Fraser Forster believes Celtic are capable of securing an SPL and Scottish Cup double
Fraser Forster believes Celtic are capable of securing a domestic double but have to stay motivated to do so.
Last Updated: 13/03/13 3:07pm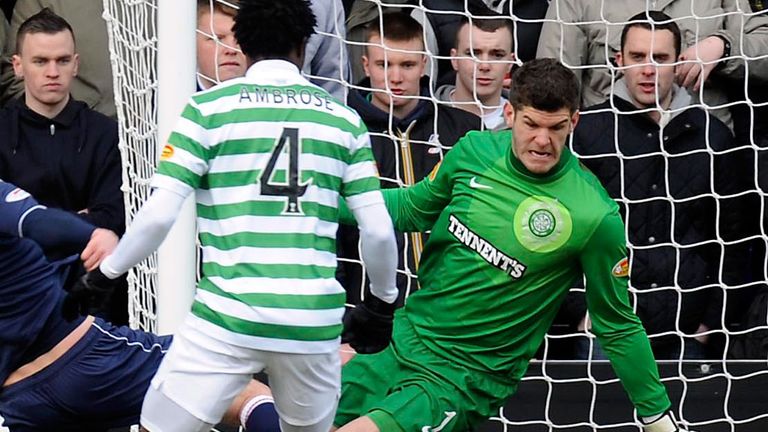 Recent defeats in Turin and Dingwall have stalled Neil Lennon's men but the England goalkeeper remained confident these would be regarded as mere blips come the end of a successful season.
"We want to wrap the league up as quickly as possible so we're all 100% focused on the job," Forster told this week's Celtic View.
"We can't be complacent, though. We have to go out and keep trying - a lot hasn't changed in the league, we still have to go out and perform well.
"A few times we've had a gap at the top of the table and it hasn't meant we've dipped in form so hopefully that doesn't start happening now.
"We all want to win the Scottish Cup, especially after the disappointment of losing the League Cup semi-final, so it's vital we get to the final this time.
"It's important we're fully focused because we know it will be a tough game against Dundee United when it comes around. We're going for the double so we're still very motivated."
The Celtic shot-stopper is also aware some players could get a break if they are to secure their second consecutive Sottish Premier League.
"There are a lot of good youth players coming through and they would benefit from some game-time," he added. "It would be good for them if we were to wrap up the title as early as possible because that's experience they can then take into next season."
Next up for Forster and his team-mates as they look to step another three points closer to the championship, is Aberdeen at home this Saturday. He is looking forward to coming up against Niall McGinn again but knows it will be no easy task.
"Aberdeen had a great start to the season, and there was a lot of talk of them challenging us but it was a bit of a strange one," he said. "We hit form and they seem to have dipped, but we still expect a tough game from them.
"Niall's been on top form for them, he's banging it in for them and he's having a tremendous season."