Newcastle's Massadio Haidara shocked by Callum McManaman reprieve
Newcastle's Massadio Haidara has voiced his surprise that Callum McManaman will not be facing punishment for his tackle.
Last Updated: 21/03/13 9:53am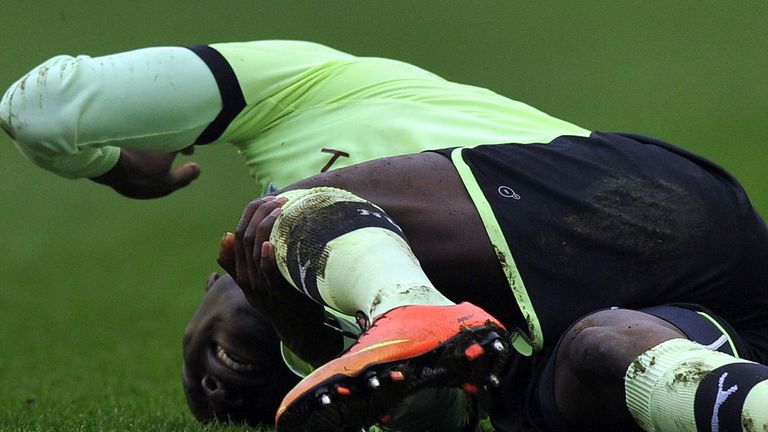 Haidara had to be stretchered off in Sunday's game after being caught by a high challenge from McManaman, who was not disciplined by referee Mark Halsey at the time and cannot face retrospective action as the incident was seen by at least one of the match officials.
Haidara is still waiting to discover the extent of the damage but he has tweeted that he is 'getting better and better'.
But he was astonished to learn that McManaman had escaped a ban, telling Le Parisien it was 'hard to swallow'.
He said: "I don't understand. His tackle could have ended my career and ruined my life but in the end he will play football before me. We have to protect the players. I don't want to change the physical mentality, pace and commitment of football in England but we can't tolerate tackles like this in football."
Wigan manager Roberto Martinez revealed after the final whistle on Sunday that McManaman wanted to contact Haidara to make an apology, and the 20-year-old Frenchman is ready to meet him.
"There is the difficulty of the language barrier but I think we will try to see each other with an interpreter," he said, before adding that he would not hold a grudge.
"In the moment, I was really, really angry with him. I thought he had stopped my career. Now I feel differently and just hope that this will give him a lesson and that next time he will know how to stop himself."
Shudder
Haidara admits he was baffled by comments from Dave Whelan in the wake of the controversy, as the Wigan chairman defended his player and said the tackle was fair.
"I understand how he wants to defend his player but you have to be fair and honest. You just have to watch the footage and see the photographs to understand. People will make their own judgement but I don't want to be at war with Wigan now."
Speaking about the challenge, he added: "I've not forgotten anything. I can still picture it, frame by frame, in my head. The ball arrived. I controlled it. I thought I would have the time to dribble past him but he arrived like a missile on me.
"Everything was going so quickly. I didn't think he would tackle me, but even less at that height of my knee. Then I felt his studs on my leg - and straight away the terrible pain.
"I really thought my leg was broken. I was in so much pain I couldn't think of anything. I was completely shocked - I still am, to be fair - and I started thinking about my career and everything. I thought I would not play football again or never be back 100 per cent.
"I have to say I've never seen such a tackle in football in my life. I shudder every time I think about it."