World Cup: Steven Gerrard admits England need four wins after Montenegro draw
Steven Gerrard claims England need four straight wins to top Group H after losing a lead to draw 1-1 in Montenegro.
Last Updated: 27/03/13 11:42am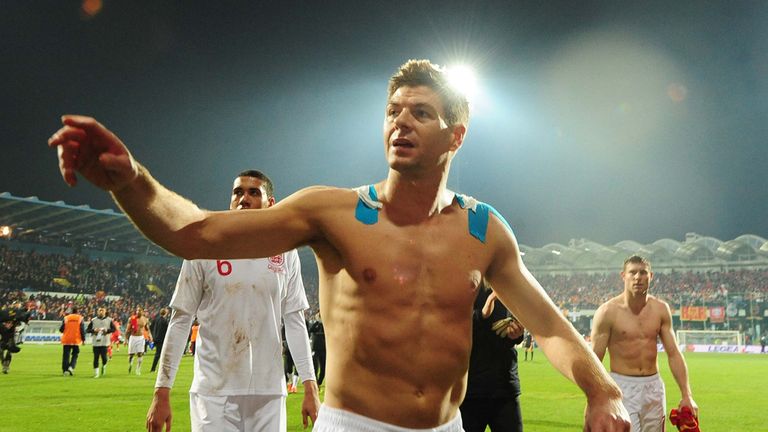 Wayne Rooney rewarded the visitors' fast start on the ground where he was sent off in the autumn of 2011, but a Montenegro onslaught after half-time yielded Dejan Damjanovic's equaliser and kept Roy Hodgson's side second.
England have beaten just San Marino and Moldova in World Cup qualifying and remain two points behind Montenegro, while both Ukraine and Poland are a further four back with a game each in hand.
Gerrard said after a third draw in the group England had "stopped playing", and the captain warned any repeat in Ukraine in September would finish off their hopes of automatic qualification for Brazil.
He said: "We're still confident we can finish top of the group. We need to win all our games, we certainly need to improve on that second half performance and play like we did in the first half.
"We certainly need to get three points when we go to Ukraine in September and we need perfect results at home."
Gerrard conceded victory in Podgorica would have flattered England, saying: "We stopped playing after the break for 20 or 30 minutes and away from home you can't afford to do that.
"We stopped passing the ball and that's when we lost control. I think they deserved the equaliser.
"I think there was a lot of experience out there and I think the first half we showed that. We controlled the game.
"The problem is at 1-0 you're always vulnerable. You've got to go on and get the second goal to get complete control and we never did that. They took control of the second half up until the last 10 minutes so they deserved the draw."