Liverpool keeper Brad Jones back owners' rebuilding policy
Brad Jones has given his backing to Liverpool's American owners' policy of trying to build rather than buy success.
Last Updated: 28/03/13 4:39pm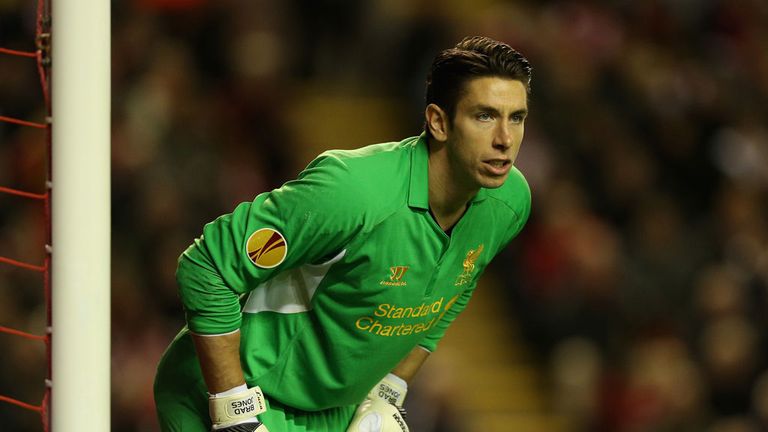 The Fenway Sports Group have tried to run the club on a more sound footing with UEFA's Financial Fair Play rules in mind although this has seen the Anfield club drop down the list of European football's big spenders.
Part of this plan has seen a greater investment in youth with Academy products Raheem Sterling, Andre Wisdom and Suso all breaking into the first team this season.
And Jones believes the policy is the right one as the club rebuild under the management of Brendan Rodgers and look to break back into the top four and regain Champions League status.
"It is difficult to say (how much ground we have to make up)," said Jones, speaking at an event for charity Anthony Nolan.
"The likes of Chelsea and Manchester City have spent unbelievable amounts of money. Liverpool haven't necessarily done that.
"It was documented a couple of years ago when the new owners came in and spent a fair bit in one go but you have to remember £50m of that came in from Fernando Torres.
"If you ask the teams that have, shall we say, 'bought' a winning team I don't think their fans will care because they have won something.
"But if you get to the top from building I think the fans grow with the team.
"The club aren't trying to go out and buy the league in one season.
"The owners are quite clever, they have seen it in other sports. For them it is a slow process, it is not going to happen overnight.
"I think they will be happy with what they have seen this season and obviously they will want it to move forward and make that next step and hopefully that will be next season.
"That is the direction we're going in and it is a good place to be."
Jones is a prominent supporter of Anthony Nolan, the UK blood cancer charity, after his six-year-old son Luca died from leukaemia in November 2011.