PSG's Thiago Silva in war of words with Marseille midfielder Joey Barton
PSG star Thiago Silva has hit back at Joey Barton for his criticism of Brazil and a number of his team-mates.
By Patrick Haond
Last Updated: 04/04/13 10:27am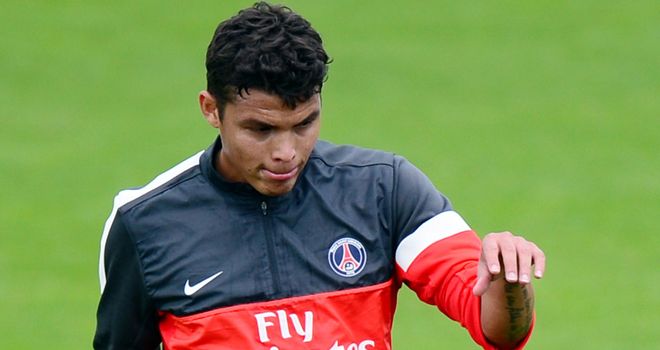 Barton has publicly slammed Brazilian starlet Neymar amongst others and Silva was left far from happy.
"I can hear a lot of people criticising the Selecao [Brazilian squad]," he told L'Equipe.
"There is even a Marseille player, I can not remember his name, an Englishman, who has said bad things about Neymar, and Brazilian football, but also about Beckham and Ibra [Ibrahimovic]. As no one is talking about him, it seems fun to him to criticise great players for people to know he exists.
"That person must never forget on Auriverde [gold and green] shirt there is more stars than on any other shirt. Five World Cups. That deserves some respect.
"But it gives me much more desire to win to silence that Englishman. What does he know about Brazilian football? I don't remember having played against him in the national team."
Barton did quickly respond to Silva's comments, via his Twitter account: "Thiago Silva. That the same p**** thats been injured all season. Another over rated Brazilian. Sort your hamstrings out FatBoy..."
Barcelona
Centre-half Silva, who joined PSG last summer, also spoke about how he almost signed for Barcelona - who he will face in the first leg of the Champions League quarter-finals on Tuesday.
"Last summer Barca had contact with my agent, it is the club where every player wants to play one day. As a kid I dreamt too, but it never materialised," he revealed.
"When Barcelona came last summer I was already in talks with PSG. I had even given my word to Leonardo that if I would leave Milan, it would be to sign at Paris."
Silva admits that it took him time to settle into Parisien life, adding: "For two months I came to training sessions with some kind of sadness.
"Then, I got back trust and I felt the atmosphere in the group was improving. I feel much better in my life nowadays. Now I am very happy here. Even if football is unpredictable, I have big desire to plan long-term future at PSG."