Scottish Football League clubs given deadline for voting on league reconstruction
Scottish Football League clubs will vote on reconstruction by 19 April, says the Scottish Football Association.
Last Updated: 02/04/13 9:11pm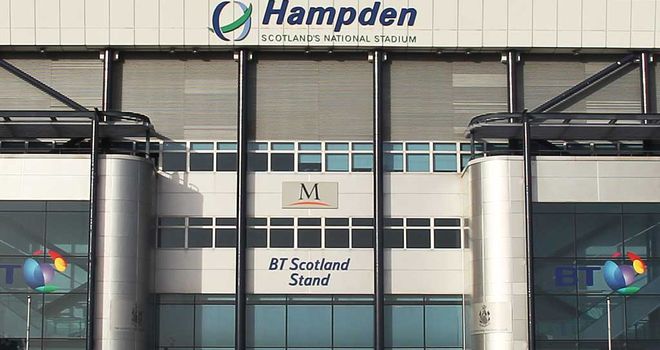 Discussions were held on Tuesday by the SFA's Professional Game Board between the Scottish Premier League and SFL board members with the SFL committed to make clear their decision in the same week as their SPL counterparts.
SPL clubs will hold their vote on 15 April, with the votes of 11 out of 12
top-flight teams required to approve reconstruction plans which include the proposed 12-12-18 structure, which would split into 8-8-8-18 after 22 games.
In the SFL, 22 out of 29 eligible sides must vote in favour of plans, which also include a merger which would leave one ruling body and the change in the financial distribution model.
An SFA statement read: "The Scottish FA facilitated a special meeting of the Professional Game Board at Hampden Park to establish both the current position and next steps from the Scottish Premier League and Scottish Football League in relation to the ongoing league reconstruction process.
"At the meeting - which also included representation from the SPL and SFL board of directors - a number of issues were debated openly in order to provide clarification and certainty on a number of issues that arose following the SFL members' meeting on 28 March.
"The Scottish FA's position on league reconstruction is clear: Scottish football requires urgent, radical change in its league structures as a first, essential step to rejuvenating the national game.
"To that end, in order to provide greater comfort to both sides, we have agreed to undertake a period of due diligence on behalf of both the SPL and SFL to provide independent verification of projected distributable revenue of any single league body."
Last week's meeting at Hampden between the SPL clubs reportedly ended in an informal 14-14 vote which cast doubt on the success of the proposals.
Dunfermline, who moved into interim administration last week, did not attend, while Rangers do not have a vote because of their associate member status.
A survey commissioned by the Scottish Football Association revealed the vast majority of supporters in Scotland were against the the league reconstruction proposal as they wanted a bigger top flight.
Around 7,000 fans were polled for the first-ever Scottish National Football Survey, with 87% of respondents claiming they want to see a top division made up of more teams than the Scottish Premier League's current 12 members.