Goalkeeper Neil Alexander speaks out about Rangers contract talks
Rangers keeper Neil Alexander insists his failure to agree a new deal has nothing to do with his financial demands.
Last Updated: 03/04/13 9:43am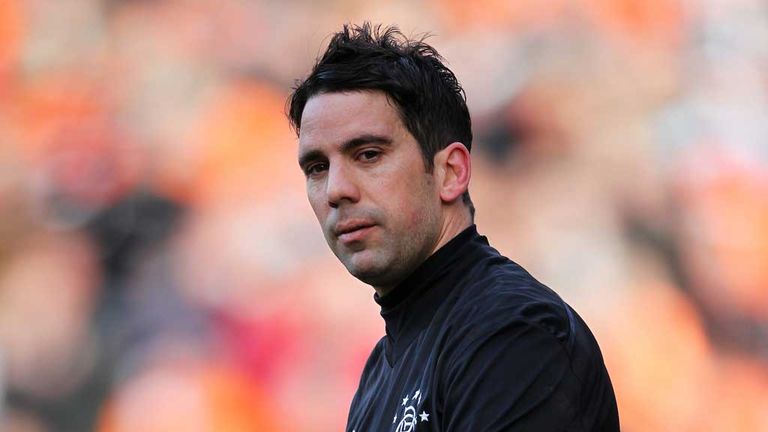 The 35-year-old is out of contract at the Scottish Third Division club in the summer and is yet to agree an extension, casting doubt over his future in Glasgow.
Reports have continued to surface that the two parties have reached a stalemate due to Alexander's wage demands, with the keeper quoted as saying he was "quite a bit away" from reaching a new contract agreement by a Scottish tabloid newspaper on Tuesday.
However, Alexander says he has not spoken to the press since December under instructions from the club but has broken his silence to set the record straight over his situation, insisting he would take a pay cut to stay.
He told the Daily Record: "I have to speak out and clear my name. I can't just sit back and take this kind of stuff any more.
"I've not done any interviews with the Press since just before Christmas. The club told me I couldn't speak to anyone because of my contractual situation and I accepted that.
"But since then there has been a steady stream of misinformation about my situation appearing in various newspapers. As a result the Rangers fans have been given a false picture of what has been going on.
"I've said nothing which has been hard because I know the fans are frustrated with me. I know that because every week, home and away, I hear them shouting: 'Just sign you greedy b******!'
"That really does hurt me because it's never been about the money for me. I gave up a six-figure sum to help the club through administration and I'll never see that money again. Even now I want to take a pay cut to stay. I understand why fans think that because of what has been written. But now I need them all to know the truth.
"I've had to bite my tongue and carry on but the final straw was this morning, when I picked up a national newspaper and read quotes from myself talking about leaving Rangers - when I have not even spoken to anyone from that paper."
No choice
He added: "It's very strange as the only interviews I have done since December have been with the club's official media outlets. I can't understand why these quotes have appeared and I have asked my agent to investigate.
"But I also feel I have been left with no choice other than to speak up and put the record straight. I have to defend myself. If this is the end for me at Rangers then I don't want to leave with the fans thinking badly of me."
"I feel privileged and honoured to be playing for this club and I think I've done a good job. It's been a dream come true for me to become the Rangers No.1 and I still dearly hope I can stay here for the rest of my career. That doesn't look like it's going to happen now.
"But what I can't have is people being given the wrong idea and thinking badly of me as a person. It's important to me the fans know the truth so that, if I am leaving them, then at least I'm leaving with my head held high."
Rangers have signed keeper Cammy Bell on a pre-contract agreement from Kilmarnock and Alexander knows that could spell the end of his Ibrox career but insists he would stay and fight for the No.1 spot.
Alexander added: "Yes, I would find it difficult sitting on the bench in the lower tiers of Scottish football. And, yes, there is a chance that could happen. But at the same time you have to believe in your own ability. Maybe, though, the writing is on the wall now Cammy is coming."