Pablo Zabaleta believes changes will continue at Manchester City
Manchester City defender Pablo Zabaleta expects to see plenty more changes at the club over the years to come.
Last Updated: 03/04/13 11:20am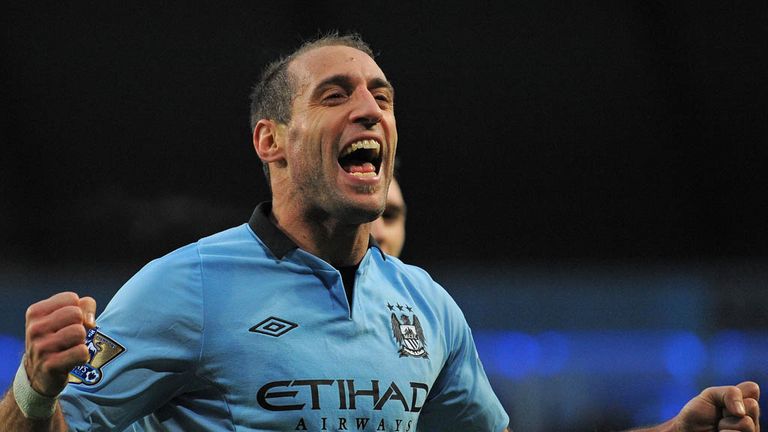 The Argentina international joined City a day before the club was bought by Sheikh Mansour in 2008.
The rapid turnover of big-money players that followed brought accelerated progress that culminated in Premier League title success last season.
Just a handful of players remain from the pre-takeover era but the consistent Zabaleta has survived and admits the transformation from then has been remarkable.
The 28-year-old said: "Of course it is different because there are more talented players here now and I say that with a lot of respect to the players who have been here before.
"Since 2008 the club has been changing players every year - there's only a few players left in the team from 2008 - me, Vincent (Kompany), Joe Hart and Micah (Richards).
"But that is all part of the new era for Manchester City, we expect to continue to do better."
Mainstay
Zabaleta was an important member of the title-winning squad but it is this season that he has truly established himself as a mainstay of the team.
Manager Roberto Mancini has a preference for rotating full-backs but injuries to Micah Richards and Maicon this season have meant that Zabaleta has been almost a permanent fixture on the right.
He has responded by producing consistently outstanding form and his current status is not something he anticipated when he arrived from Espanyol.
He said: "When you sign a for a club you just try and do your best but I admit that I didn't know whether I would be still be in the squad and winning trophies five years later because it was a different club when I joined.
"So I am very pleased to be a part of this club, I'm really happy to be here."
City's hopes of retaining their title are all but over as they trail Manchester United by 15 points with just eight games remaining.
But that will not stop them from bidding to land a blow in next week's derby at Old Trafford, a fixture now much more evenly poised than in the recent past.
Zabaleta said: "They have more respect for Manchester City now. When I arrived at the club in 2008 it was completely different.
"We have different players now and by winning the league championship last season we showed that we are learning and growing as a club and as a team and I'm sure they have more respect for us now."