James Milner says Man City will continue chase for Premier League title
James Milner concedes that Man City are unlikely to defend their Premier League title, but says they will not give up.
Last Updated: 10/04/13 8:17am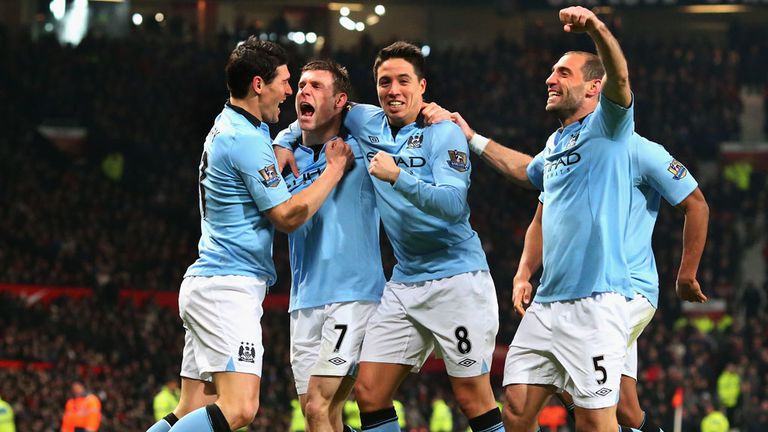 A 2-1 derby victory over arch-rivals Manchester United on Monday cut the Red Devils' lead at the summit to 12 points.
With just seven games of the season remaining, there would have to be a dramatic collapse at Old Trafford for the race to be blown open again.
Milner, though, insists that City will fight to the finish, with a lofty league standing and a second FA Cup triumph in the space of three years still within their reach.
The England international told The Sun: "It's never over until it's over. People can say it is, but in the dressing room we think it's mathematically still possible so we'll take it game by game and try to win our remaining fixtures.
"We know it's very unlikely they'll blow it. United have plenty of experience at closing out titles and probably haven't had too many gaps as big as this before.
"They'll still be confident but we've done all we can by winning, and hopefully we've put a bit of doubt in there.
"Whether it's over or not, our objective doesn't change and that's to win every game between now and the end of the season. If we do that, we'll win an FA Cup at least."
Momentum
Milner, who will form part of City's plans for a cup semi-final showdown with Chelsea at Wembley on Sunday, believes lifting one piece of silverware would be enough to make the Blues' season a success.
He added: "If we do that, it's not a bad season at all. Obviously we wanted to retain the title - it looks unlikely now.
"But winning trophies is a habit and we've managed to do that in the last couple of years. We need to keep doing that, keep that momentum.
"The FA Cup is a great trophy, you dream of winning it. If we can do it, then it's not bad."