Barcelona defender Gerard Pique proud of his time at Manchester United
Gerard Pique remains 'very proud' of his time at Manchester United, but always expected to return to Barcelona.
Last Updated: 10/04/13 4:26pm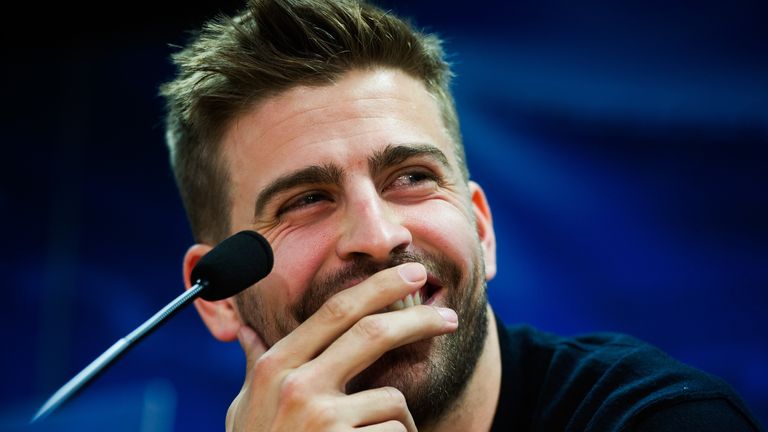 The defender joined United as a 17-year-old and made 23 appearances for Sir Alex Ferguson's side before heading back to Barcelona.
He has twice beaten United in a UEFA Champions League final, but the 26-year-old looks back fondly on his time at Old Trafford.
"The kid who went to Manchester was a boy of 17 who found himself in a changing room full of stars and had a wonderful time," Pique told the Daily Telegraph. "I remember when I was called to train with the first team, it was wonderful.
"That prepared me for what was coming, for the return to Barcelona. Without that pressure, I would have been a bit green when I came here.
"I am very proud of my three years there, of having decided to go to Manchester first - at 17 it was the perfect time for me to leave home because it helped make me as a person.
"I am proud to have been part of a Sir Alex Ferguson team. Even though every time I meet him I tell him that he got it wrong with me!"
However, like his Barcelona team-mate and former Arsenal captain Cesc Fabregas, the Spain international knew he would always return to Camp Nou at some stage of his career.
He added: "You want to come back. This is the best club in the world, you get titles, enjoy the style, are at home. If you leave it is because you don't see the road clear to the top.
"When Cesc and I left, in the same year, we had a great team with Messi in it. We were beating everybody but I took the risk of leaving all that behind and test myself.
"But everybody that leaves does so thinking, 'I will be back one day'."