Craig Bellamy overcome with emotion by Premier League promotion
Cardiff forward Craig Bellamy admitted it was difficult to describe the emotions of helping the club secure promotion.
Last Updated: 18/04/13 9:17am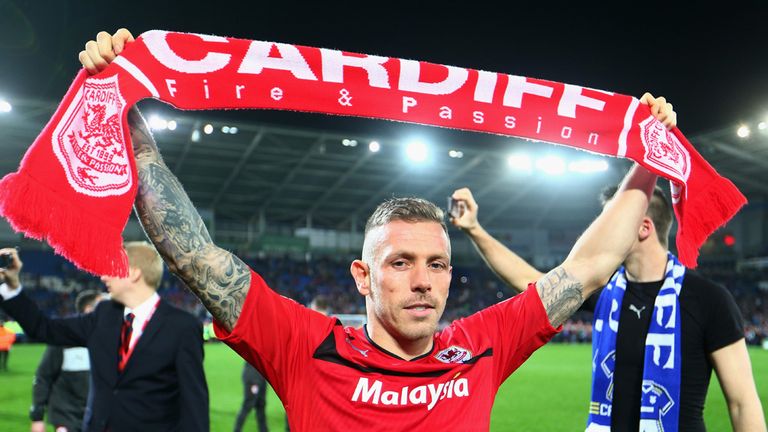 The much-travelled Wales international, back with the club he grew up supporting on the terraces of Ninian Park, fell to his knees, overcome by the moment, when the final whistle blew against Charlton on Tuesday night.
That goalless draw meant the end of their 51-year exile from the top tier and long-time supporter Bellamy explained just what it meant to him - and his father - to be part of a Cardiff promotion-winning side.
"You can't describe it," the 33-year-old said. "When I saw the referee wave the linesmen over because of what was about to happen it was some feeling.
"I dropped to my knees because I was exhausted and because of utter relief. You can't explain it. I'm just so grateful to have played a small part at this club on a momentous day.
"It was emotional, especially to have people I truly love around me as well and to share this with me.
"To see my dad after it and all the heartache he has gone through watching Cardiff City over the years. I lost count of the amount of games we went to on a wet Tuesday night and he'd pull me aside and leave with 10 minutes to go and he'd say we were never going back.
"The following Saturday we'd be there again and for him to see that and for his son to play a part makes it even more special and that hit home to me as well.
"He said he would die a happy man."
Before his move back from Liverpool last summer Bellamy had been a Premier League regular with the likes of Manchester City, Newcastle and West Ham.
And Cardiff's new hero says a global audience awaits them come August as they compete in arguably the most popular league in the world.
He said: I'm very fortunate to have played in the Premier League for 10 or 11 seasons and it is such an immense league, the quality of players and the quality of clubs. It is the place to be.
"This city and this club have been craving it. It is going to let us be worldwide.
"You take that step up and you are watched by television viewers worldwide, it is going to allow the club to excel.
"The Premier League is going to allow us to take that step further."
Cardiff will join Capital One Cup winners and arch-rivals Swansea in the top flight next season. And with Michael Laudrup's men preparing for a European adventure and Wrexham and Newport in the Blue Square Premier play-offs things are looking positive for football in Wales.
And Bellamy, who continues to pull on the red shirt of Wales with pride whenever fitness allows, says his side's step up can only help the principality.
"It is not a bad time for Welsh football at all and the knock on effect it could have can only be positive for the national team and young players," he said.
"It makes it all the more special as well.
"We've seen what it has done for Swansea. We are a capital city and the effect the Premier League is going to have is immense."