Chelsea interim manager Rafa Benitez surprised by Basel's penalty award
Rafa Benitez was thankful a 'very strange decision' did not deny Chelsea a win over Basel in the Europa League.
Last Updated: 26/04/13 7:35am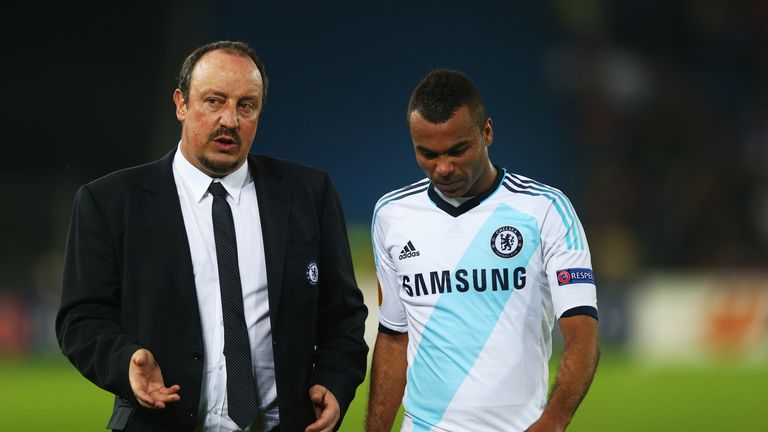 Victor Moses' first-half header had Chelsea in front for the majority of the game until Basel equalised with three minutes to go through Fabian Schar's penalty.
The spot-kick was awarded for an apparent foul by Cesar Azpilicueta on Valentin Stocker, although there was little to suggest there had been an infringement.
David Luiz scored with the last kick of the game to ensure the decision did not prove too costly and Benitez was satisfied to come away from Switzerland with the advantage.
"I think we played against a good team," said Chelsea's interim manager. "You could see the intensity and pace of the game, and the tempo of the game.
"We had enough chances to score an away goal, but the penalty was a surprise for everyone and that could have made a difference.
"I couldn't see why it was a penalty. The ball was in the air and it was a very, very strange decision."
Benitez added: "It's always important to win and to score an away goal, but to score two and win is even better.
"David Luiz was playing as a midfielder and he did a great job, so I'm really pleased with the team in general."
Looking towards the second leg, Benitez added: "We know this team (Basel) is a very good team, who can score goals home and away, so we have to be sure to concentrate.
"We can't be over confident in the next game but we know that, if we play well, we can beat anyone."
One sour note for Chelsea was a 69th-minute booking for the fit-again Ashley Cole for time-wasting which rules the left-back out of next Thursday's second leg at Stamford Bridge.
Yakin: We didn't give up
Basle boss Murat Yakin said: "We were well organised but so were Chelsea. We just didn't find the free spaces.
"They took advantage of set pieces with the tall players they have in their team, but we didn't give up.
"Both sides created a lot of chances and the fans must have loved the game.
"We managed to equalise close to the end and the team reacted very well and were even looking for a winner.
"But, in the end, we were the unlucky team. Overall, we showed passion and it was a very good performance."