Harry Redknapp hopes to put QPR in Championship promotion contention next term
Harry Redknapp is determined to bounce Queens Park Rangers back to the Premier League at the first time of asking.
Last Updated: 06/05/13 12:05pm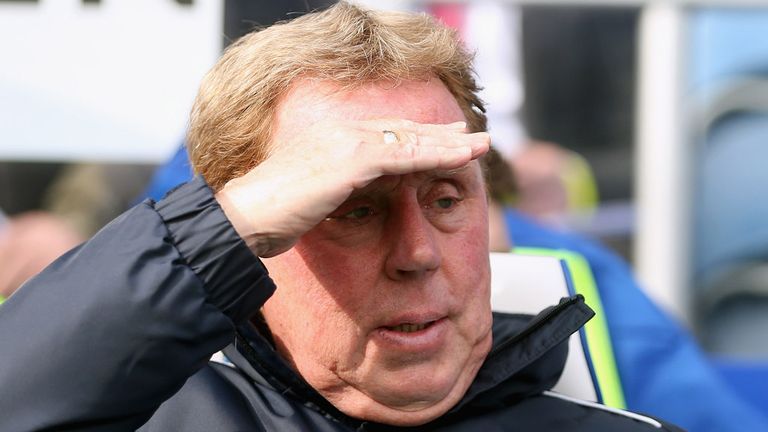 The vastly-experienced coach has been unable to prevent the capital club from slipping out of the top flight this term, with relegation already confirmed.
It remains to be seen what state QPR will be in by the time the 2013/14 campaign gets under way, with a busy summer of comings and goings expected at Loftus Road.
Redknapp insists he will do everything in his power to have the club ready to mount a promotion push, with there still a desire on his part to compete at the very highest level.
QPR chairman Tony Fernandes has revealed that players and staff will have to take a pay cut after slipping into the second tier, but Redknapp claims that will not be an issue.
He said: "I'm taking a big cut in wages. Money is not everything to me. I don't have to go to work, really. I do it because I enjoy it, I've enjoyed it here and I'd like to build a team that can get back up because I like the people here, I like the chairman and the fans.
"If I didn't have the hunger then I wouldn't come to work. I'd stay at home and play golf every day. When I've had enough that's what I will do. But I love it. I still love the buzz of winning. Trying to win, the ups and downs of it all.
"My target is to get promotion next year. That's the aim. I don't intend to stick around for four years in the Championship.
"I want to build a team to try to get up. It will be hard, I'm not silly enough to think it will be easy. It's a tough league. With a bit of luck, if I can get some players in, change things around then we'll give it a good go. But it won't be easy."
Proven
Meanwhile, Redknapp has tipped loan star Andros Townsend to go from strength to strength after proving his Premier League worth over the second half of the season.
The 21-year-old midfielder is due back at parent club Tottenham Hotspur this summer and will need to decide whether his future is best served at White Hart Lane, or taking on a new challenge elsewhere.
Redknapp said: "He'll be a good player for Spurs next year. He will go back there a better player. He has proved to himself what he can do. He has proved he can play in the Premier League.
"It is up to Tottenham. He will want to play. He is good enough to play somewhere. And he has proved he can do that."