Paul Scholes was happy for all the attention to be on Sir Alex Ferguson on his final Old Trafford appearance
Manchester United midfielder Paul Scholes says he was happy for his retirement to slip under the radar.
Last Updated: 12/05/13 4:38pm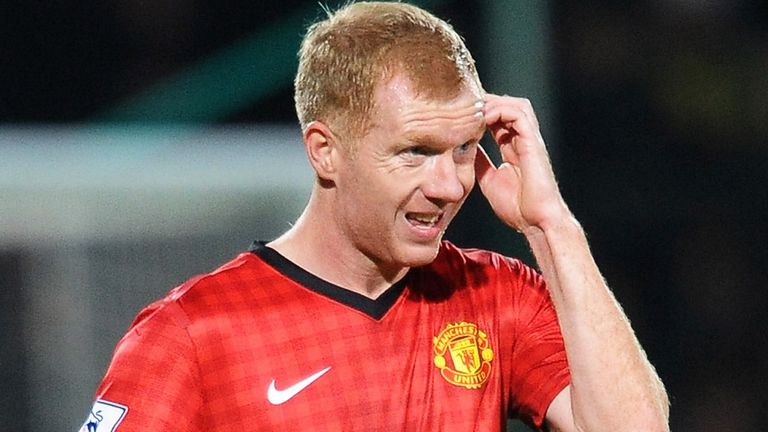 The Manchester United midfielder announced his retirement for a second time on Saturday, having ended a six-month hiatus when he agreed to resume his career in January 2012.
Scholes is notoriously media-shy and admitted Ferguson's announcement of his retirement plus continued speculation about Wayne Rooney's future had given him the perfect opportunity to slip out of the game with little fuss.
"It couldn't be any better could it?" said the 38-year-old. "(The speculation of) Wayne Rooney asking for a transfer - there's not much else that can go well for me.
"Yeah, it's the perfect weekend for me. (My) last game and I will just slip under the radar and off I go."
Scholes has made just a handful of appearances this year following a knee injury in January and said that had contributed to his decision to retire - and this time he insists it is a decision he will not reverse.
"I think this is it. I'm sure this is it," Scholes said. "It's probably not the season I would have liked to go out on but the last four months have been quite difficult with injury, with my knee and trying to get back fit again.
"I'm totally convinced. I was convinced last time to be honest with you. At the time you are but I know now in my head that I have gone as far as I possibly can physically. This is the end. Again."
Scholes also revealed he is unsure what the future holds for him, following Ferguson's departure from Old Trafford.
"The manager wanted me to be on the coaching side but it's going to be a different manager," he said. "I don't know what the new manager will want.
"But yeah, I would like to be in charge of my own team and in charge of my own players and try and make a team play the way I like football to be played."