David Luiz would welcome Manchester United striker Wayne Rooney to Chelsea
David Luiz has confirmed he would be happy to see unsettled Manchester United striker Wayne Rooney move to Chelsea.
Last Updated: 13/05/13 10:25am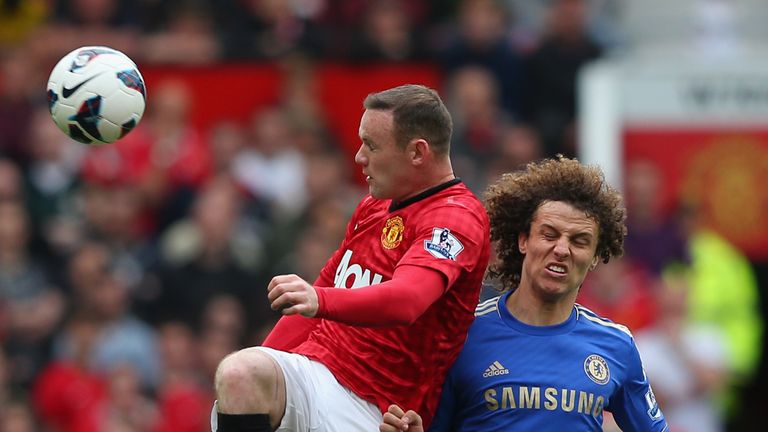 Retiring United manager Sir Alex Ferguson confirmed after Sunday's win over Swansea City that Rooney had asked for a transfer for the second time in his Old Trafford career.
Ferguson suggested that Rooney was frustrated at being substituted in recent games, but insisted that United had no plans to let the England international go.
Bayern Munich and Paris St Germain are among the clubs to have been linked with a summer bid for Rooney, while Chelsea are favourites to keep the 27-year-old in the Premier League.
Blues defender Luiz is well aware of Rooney's ability and would welcome the forward at Stamford Bridge next season.
"Everyone knows about his quality, so if he wants to come to Chelsea why not? I'd be happy with it," said Luiz in The Sun.
Meanwhile, Sky Sports' Gary Neville says Rooney needs to sort himself out and has warned that the only way is down if he leaves the Premier League champions.
"Wayne is an emotional lad and you can see in the last couple of months he hasn't quite been himself," said Neville.
"Wayne Rooney wears his heart on his sleeve. He fights every refereeing decision. But he has been a bit vacant on the pitch. You can see something is wrong.
"But there is nowhere to go from here. I have seen players join Real Madrid and other great clubs in Europe. But they always want to come back.
"If you play for this club for 20 years it is not a bed of roses. You struggle mentally at times. He will be going through a difficult moment.
"But in a couple of weeks he will be coming away with England. Then he needs to have the summer off and hopefully get his head back to being a Manchester United player."
Neville feels Rooney's family, and agent Paul Stretford, have a crucial role to play over the next few weeks.
"This is a good kid," said Neville. "He needs to surround himself with his family and his players. The ones who have been here for a long time will bring him round.
"He is not someone who will make rash decisions but he needs people around him to give him good advice. He has an agent and friends. They need to be giving him the right advice.
"This is the only club he should be playing at."