PSG keen to keep David Beckham in some capacity for 2013/14
PSG chairman Nasser al Khelaifi is hoping to see David Beckham remain at the club in some capacity next season.
By Patrick Haond
Last Updated: 14/05/13 10:38pm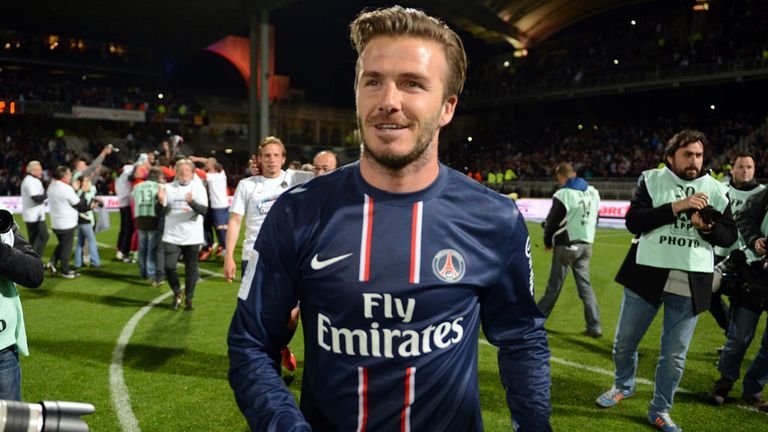 With the French outfit having toasted Ligue 1 title success over the weekend, attention is already turning to 2013/14.
An approach from Real Madrid for coach Carlo Ancelotti has been knocked back, with PSG looking to strengthen their ranks, rather than break them up.
They have regularly expressed a desire to see former England captain Beckham pen an extension to the short-term contract he agreed in January and remain part of their plans.
The 38-year-old is yet to decide what the future holds, but Al Khelaifi claims there will always be a role for him at Parc des Princes.
He told L'Equipe: "We will see what David wants to do. We would like to see him go on with us.
"He is a man of great quality and if he decides not to go on as a player, I hope he remains with us in another role.
"Having him among us, on the pitch or off the pitch, is very important. It's up to him."
Essential
Al Khelaifi has also expressed a desire to see sporting director Leonardo remain at the club - despite seeing the Brazilian jostle a referee to put himself in disciplinary trouble and spend a night in a Paris hospital on Sunday after feeling unwell during PSG's title celebrations.
He said: "Whether he does things in a good way or a bad way, he is always led by his desire to protect the club. Leonardo has given his heart and health for the club.
"It is thanks to him that we are champions. He hired most of the players that are currently in the team. He is essential to our project and his departure is not topical."