Swansea boss Michael Laudrup wants players to finish strongly against Fulham
Michael Laudrup calls on players to find their own sources of motivation for Swansea's final match.
Last Updated: 19/05/13 3:46pm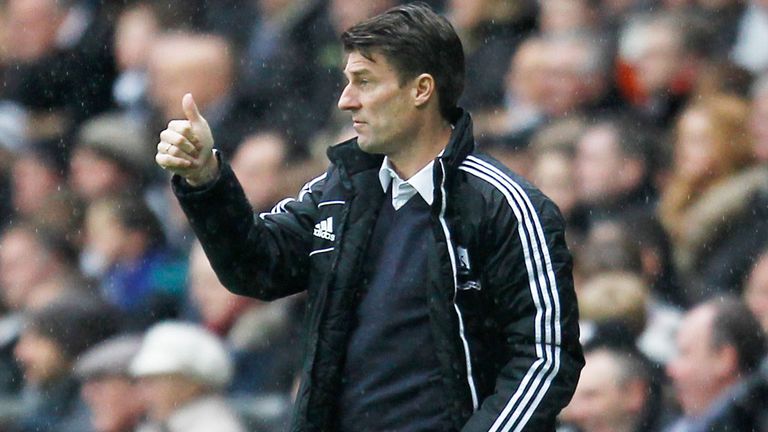 The mid-table contest is a dead rubber with Fulham already safe and Swansea guaranteed a top-10 finish at the end of a campaign which saw them win the Capital One Cup.
But Swansea still have the incentive of leapfrogging West Brom and claiming eighth place if they secure a victory and West Brom drop points against Manchester United.
"Sometimes as an individual and as a team you need to find your own motivation," said Laudrup.
"Sunday will be our 47th game, and I cannot stand there as a manager every single game and say how important it is.
"Individuals have to find their own motivation. If I was playing, my motivation perhaps would be to win our last game at home because final impressions are important.
"Winning could get us eighth position, which in my world is winning the championship because we cannot really touch the seven teams above us.
"The players have to find their own motivation because we have to agree that this is not the world's most important game."
Fulham, meanwhile, have seen their own hopes of a top-10 finish evaporate after a miserable run of just one point from their last seven games.
The run of results has led to reports manager Martin Jol's position at Craven Cottage is under threat but Laudrup knows Sunday's visitors possess a squad with more than enough quality to cause damage, despite their poor recent form.
"Some people may say they (Fulham) are on the beach, I am not there do I don't know," said Laudrup.
"But they have a much better squad than one point in seven games suggests.
"Maybe with 40 points it is easy to lift off, but imagine if Wigan had beaten us to get to 38 points, then maybe Fulham would have needed one point this weekend not be relegated.
"It is so difficult at the end of the season. No-one does it on purpose, but if your level goes down just five per cent it is very difficult to reconnect and come back."