Wigan can be proud of their Premier League run, says Roberto Martinez
Roberto Martinez says Wigan will depart the Premier League with their heads held high after eight years.
Last Updated: 18/05/13 1:43pm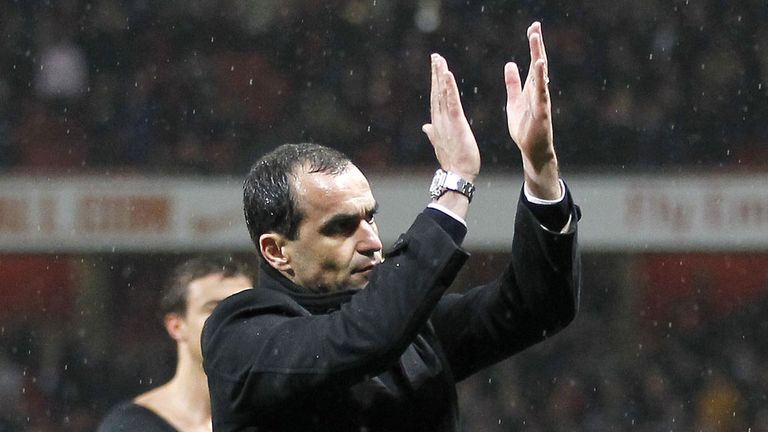 Wigan's relegation was confirmed with a 4-1 defeat to Arsenal on Tuesday - just days after they celebrated the best day in the history of the club when they beat Manchester City to lift the FA Cup.
The defeat to Arsenal means their final-day clash with Aston Villa on Sunday will be a painful goodbye to the Premier League for the club.
But the squad will celebrate their FA Cup triumph in the town on Monday evening, and Martinez will not let relegation rain on their parade.
He said: "It's been a tough lesson of what football is all about - real highs and real lows. In our case it was a real contrast - as high as you can get and as low as you can get.
"Tuesday night was really difficult, Wednesday was a difficult day, but after that you need to (move on).
"The support of the fans has helped. They have let everyone know at the football club that the FA Cup win is a historic win and we'll never lose that, our name will never disappear from that famous trophy.
"The position in the league is something we can correct, and that's something we have to do as a football club.
"It's a time to look back over the last eight seasons. To have over 300 consecutive games in the Barclays Premier League is an incredible achievement.
"In the last four years we've beaten all the top five teams, we've played everyone eye to eye and I think we've created a phenomenal history for our football club, which means that once the football club will come back at this level, it allows you to have that direction and try to look for a top-10 finish.
"Having the player of the year night (on Thursday), that was a clear message from the fans that they are extremely proud of the achievements of this season and everyone is ready to correct the league status and make sure we do that as quickly as we can."
Wigan's attractive style of play and Martinez's hugely likeable personality have made the Latics more popular with football fans than anyone would have imagined when they were promoted in 2005.
The Spaniard, who has spent the last four years at the helm of the club he once played for, was touched by the reaction to the club's demotion.
He said: "On Tuesday night we got a standing ovation at the Emirates and to see a team getting relegated and get a standing ovation from a very stylish crowd, I thought it was a fitting moment for us.
"We were told after the game in the press conference that we were going to be missed and I don't think that's something we expected.
"We always felt Wigan were the little team who were a bit noisy at this level but we got the recognition of most of the neutral fans.
"I think the way the team has played, with real bravery and achieving something unique like winning the FA Cup, has allowed every football fan to recognise that Wigan should be back at this level very soon."
Before thoughts turn to the Championship, Wigan will attempt to claim one last Premier League victory.
Martinez added ahead of the Villa clash: "It's important that we finish with a good feeling.
"We've all experienced a rollercoaster of emotions over the last few days and there's nothing better than winning football games. I think we need to do that for the fans, for everyone at the club."