David Moyes arrives at Manchester United's Carrington training ground
David Moyes travelled to Manchester United's training ground ahead of officially taking over as manager of the club.
Last Updated: 20/05/13 8:00pm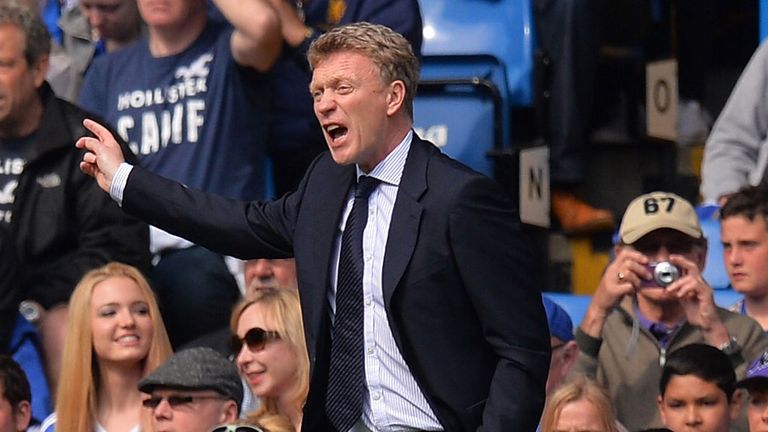 The 50-year-old, who took charge of his final game as Everton boss on Sunday, will succeed outgoing Old Trafford boss Sir Alex Ferguson on 1 July.
One of the issues at the top of Moyes' initial agenda at United is sure to be the future of striker Wayne Rooney.
The England international, who missed United's incredible final day 5-5 draw at West Brom because his wife had gone into labour, has indicated a desire to leave the champions.
However, reports have suggested that Rooney is willing to discuss his future with the man who gave him his professional debut as a 16-year-old at Everton.
The two fell out following Rooney's departure from Everton when the striker was sued by Moyes for allegations in an autobiography before they reconciled after the player apologised to his former Goodison boss in 2010.
In the near future, Moyes will also want to discuss potential summer transfer targets to strengthen the champions for their title defence and what will be his first Champions League campaign since he led Everton into Europe's premier club competition in 2005/06.
Also high on Moyes' list of duties will be to finalise details of his backroom staff at United.
Moyes has indicated there will be no drastic changes to the existing staff at the club, although Everton assistant manager Steve Round, long-time coach Jimmy Lumsden and former United player Phil Neville, who will leave the Toffees this summer, are all tipped to follow him.
Last week, Moyes said: "I haven't given any undertakings to Bill (Everton chairman Kenwright) about not taking any backroom staff. My position is I am having to weigh up a lot of things right now."
Moyes will be following the most successful manager in English football history when he succeeds Ferguson at Old Trafford.
Ferguson won 38 trophies in 26 years after leaving Aberdeen to take over at United, including 13 Premier League titles - the last of which came this season.
Moyes will discover who will be his first league opponents as United boss on 19 June, when the Premier League fixture lists are released.