Champions League: Borussia Dortmund coach Jurgen Klopp mocks London traffic
Borussia Dortmund coach Jurgen Klopp believes his side will be lucky if they make the Champions League final on time.
Last Updated: 25/05/13 6:41pm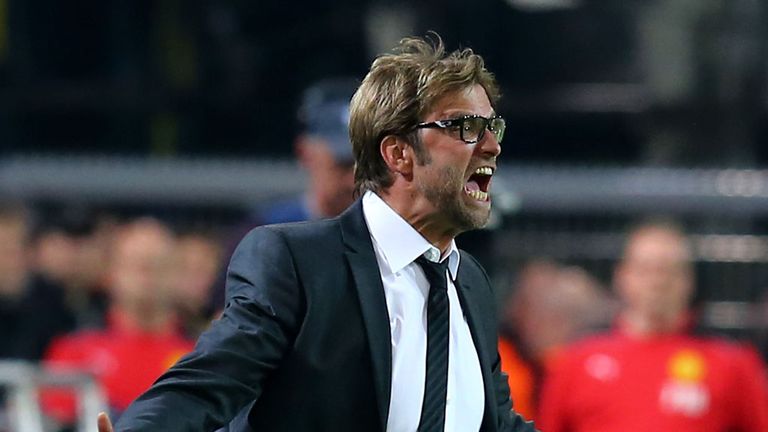 Both Dortmund and Bayern Munich experienced difficulty navigating rush hour London traffic to reach the stadium for the final training session.
It was not what they hoped for and in Klopp's case, he was particularly perplexed as Dortmund were supposed to be getting a police escort.
"We had three motorcycles next to us but are they not allowed to use their blue lights?" said Klopp.
"It would be very useful tomorrow. We were supposed to be training in the morning but given this awful traffic I am not so sure.
"If someone knows a policeman please ask him if he could put the lights on."
As ever with Klopp it seems, a smile was not far from his face. The light-hearted approach could be a major advantage for Dortmund on Saturday given their underdog status.
In fairness to the 45-year-old, he would much prefer to be at Wembley for the first all-German Champions League final than at Moscow's Luzhniki Stadium, where Manchester United and Chelsea did battle in the all-English affair five years ago.
"Moscow was good but doesn't have Wembley's tradition," he said.
"This is a special game, the biggest cup in the world between two teams from the same country. It is the perfect place against the perfect opponent.
"If this has been my only final and I die in 60 years, it won't have been so bad."
Although Dortmund have an impressive record against Bayern over the last couple of years, Klopp understands why his opponents start favourites.
With their four European Cup wins and 23 Bundesliga titles, Bayern are one of the game's true giants, with a history that endures no matter what short-term problems are encountered and a wallet that allows them to buy the very best.
In Dortmund's case that means Mario Gotze, who will miss Saturday's game with a groin injury and, in all probability, star striker Robert Lewandowski.
"They are not going to get any worse are they?" said key defender Matt Hummels, who has shrugged off a foot injury. "Not if they keep taking our players.
"Tomorrow we need to show those who would like to go to Munich that they will be missing out on something."
There is a reason Dortmund will not break the bank to keep hold of their best players and why they are susceptible to raids from richer rivals, as happened at the end of last season when Shinji Kagawa left for Manchester United.
It is that in 2005, just eight years after their only Champions League success, they almost went bust and Klopp knows such a near-catastrophe will not be allowed to happen again.
"The club could have ended as a fiasco," he said.
"The stadium might have been turned into a monument. Instead, it has risen from the ashes.
"Football is a religion in Dortmund. Bayern may have won a lot of fans and a lot of trophies because of the incredible number of good decisions they have made. But now there is another story. Along has come another club that is pretty good as well.
"We do have money to get good players. But there are other clubs who can spend more money. We have to take a different position."
Such is the impact Klopp has made following back-to-back titles and a surge to the Champions League final - that saw them emerge unbeaten from four encounters with Real Madrid and prove themselves superior to Manchester City - he could become a target for Europe's elite as well.
For now though, he is wrapped up in the Dortmund dream.
"What we have grown in the last five years has been amazing," he said, recalling his arrival from Mainz after Dortmund's worst league campaign in two decades.
"It could only have been done at this club. That is why things are so emotional for us, compared to other places where success is normal."