Championship play-off final: Crystal Palace manager Ian Holloway glad to face Gianfranco Zola from sidelines
Crystal Palace manager Ian Holloway admits he is glad to be facing Gianfranco Zola as a manager rather than a player.
Last Updated: 27/05/13 2:10pm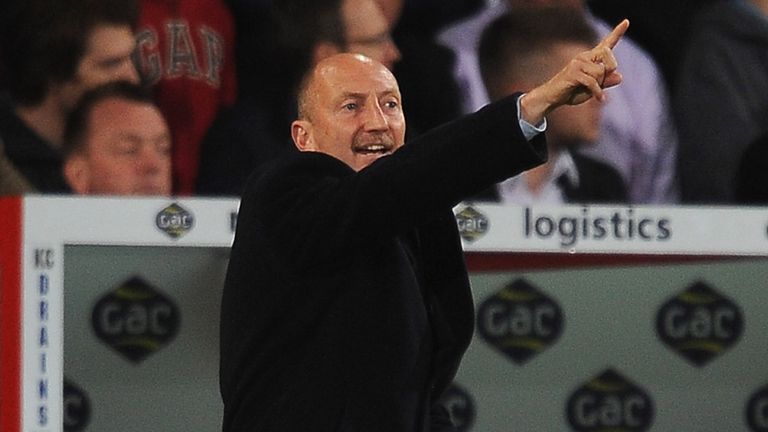 Holloway may have earned plaudits for his no nonsense style of play as a midfielder for Bristol Rovers, Wimbledon, Brentford and QPR but he conceded he was in a different league to Hornets boss Zola.
The Italian was a star performer for Chelsea and Italy during an illustrious career but Holloway believes they are more evenly matched as managers.
"Differing careers is an understatement," said Holloway. "When have I ever scored a backheel at the near post?
"I'm not on the same page as a footballer, not in a million years. But we're both managers now.
"I don't know him that well but I have the utmost respect for him, he is so dignified, polite and nice.
"The way he played the game was the right way, so entertaining, and yet he is so humble you wouldn't know how good he was, there's not one air of conceitedness.
"That's why I'm delighted and honoured to be taking my team to face his because they play the way he did. I'm altogether more competitive, I had to compete because I wasn't as good as him so I had to work blooming hard.
"If anyone changed the course of Premier League football, he has to be looked at, he was one of the early imports who changed the mindset of kids. They all wanted to do the flicks and turns, they wanted to be Zola. He should be immensely proud of that."
Holloway has been highly critical of the way Watford used the loan system to sign 10 players from sister clubs Udinese and Granada.
He again raised concerns about the potential for young British players to progress in the Championship in the build-up to the game but he was less vociferous in his protestations this time.
"They used that better than anyone and I was very concerned at the time then if that law continues, how are any young English players going to get a game?" he added.
"But that's not to say Watford did it wrong, they did it right and Gianfranco has been a genius getting them all to play together.
"Well done to them, now let's get on with this final."
Holloway's criticism of the current loan system, which allows clubs to field five loan signings but does not set limits on foreign players, has led the Football League to make changes however.
"I was shocked they were allowed to have eight players from one team and I'm very proud it's not going to be allowed next season," said Holloway.
"And I don't care what happens to Watford next year if they don't go up.
"If I can't say what I feel, what's the point of giving me vocal chords? Now I'm very glad the Football League have changed the rules.
"Watford have utilised their owners' worldwide knowledge to take advantage. But I was very concerned if those laws continued in the Championship then how are any of our young English players going to get a game?"