Wesley Sneijder wants Holland to give Louis van Gaal World Cup winning send-off
Wesley Sneijder wants Holland to give manager Louis van Gaal the perfect send-off next year by winning the World Cup.
Last Updated: 05/06/13 11:50am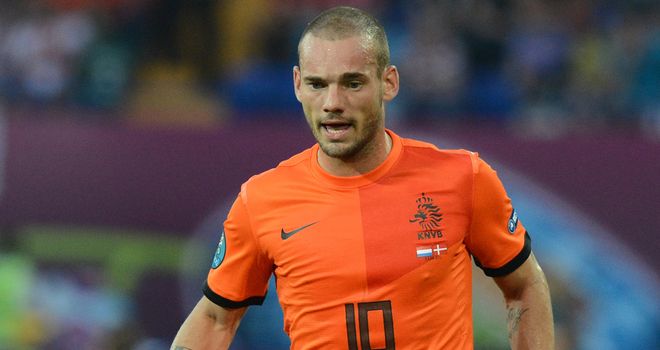 Van Gaal announced last week he intends to quit the Oranje after next summer's tournament in Brazil with only a Premier League job likely to prevent him retiring all together.
Holland and Galatasaray midfielder Sneijder admits the players did not know of Van Gaal's plans ahead of his announcement and went on to express his desire to lift the trophy for the manager.
He told NUsport: "Let's hope that in 2014 we end up with the cup, then it will have been the right choice for him to leave."
Van Gaal signed a two-year contract last summer and while Sneijder admits the coach's plan is logical, he would have preferred him to stay until the 2016 European Championship.
"It is a pity if you look at the discipline in the team and how everyone is doing. We're taking a different path.
"You're trying to create (something) with the Dutch national team. Of course it's hard, because you know that coaches come and go in football."
Of Van Gaal as a coach, the he added: "He demands a lot from his players. That is only right. He has achieved success with it, so you have to listen. This keeps everyone sharp and fit. Something that we are all in. So far it's all great."