Ex-Everton and Man Utd player Phil Neville confirms retirement from football
Former England, Manchester United and Everton midfielder Phil Neville has announced his retirement from football.
Last Updated: 09/06/13 6:41am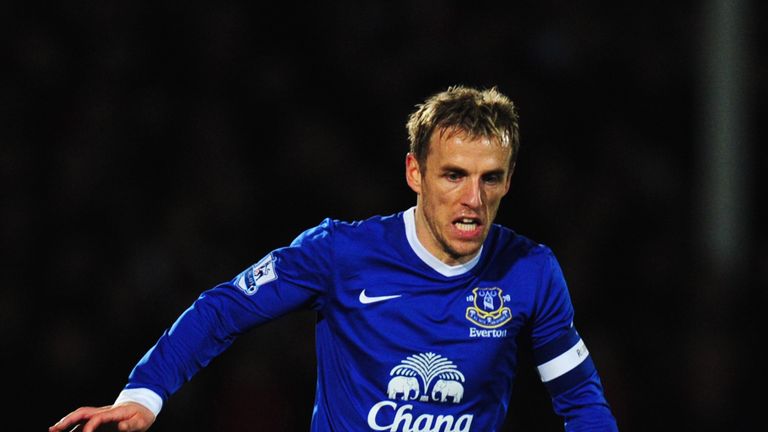 The 36-year-old won the Champions League and six Premier League titles with Manchester United, and won 59 England caps.
He announced in April he was to leave Everton after eight years at the club, but he has now confirmed that he will not be adding to his 505 Premier League appearances.
"I was speaking to Robbie Fowler about this the other week and he hasn't officially retired," Neville, currently coaching with the England U21 team at the European Championship in Israel, said.
"Three weeks ago, everyone in the world seemed to be retiring. I thought 'I'm not jumping on this bandwagon'.
"I just wanted it to be a smooth, quiet turnover. I didn't want that.
"When I made a statement that I was leaving Everton, everywhere I went I seemed to be getting 'oh you've been brilliant'. I didn't like it. I didn't want to be seen as an attention-seeker.
"In my heart, I knew that I wouldn't be playing again - at any level. I just wanted to drift away.
"The biggest thing I will miss is July 4 when Everton are due back for pre-season training. I loved that day. I lived for it, getting back with the lads.
"My wife, she knows what I'm like. She's saying 'for God's sake, don't have any more time off!'"
Neville has media work lined up and he will be a pundit at next year's World Cup, but he is being strongly tipped with a move to join up with former Everton boss David Moyes at Manchester United.
"I do enjoy the media side but I want to work, I want to coach, I want to get more hours on the grass," he said.
"I have got two paths - one to go into the media, the other to go into coaching and management. I have got offers from both. I will sit down at the end of the tournament."
He is currently in the process of finishing his UEFA A licence - a course he approaches with some advice from Sir Alex Ferguson in the back of his mind.
"He gave us a great lesson when we were doing my B licence, with Roy Keane, Gary, Nicky Butt and Ryan Giggs," he said.
"When you are a footballer at Manchester United, you are probably looking for a bit of a short-cut or can we get someone in to do the sessions for us, sign it off, and he gave us not a rollicking, but said 'no fast track to coaching or management'.
"'But we've got to go to Lilleshall for two weeks in the summer'. He said: 'Get it done'.
"'Can you phone the FA and ask if we can leave a couple of days early?' 'No, I want you to stay longer'.
"It was the biggest jolt that we had. We were thinking, we are Manchester United. We know everything. He said: 'Actually you don't'.
"There's no short cut to being a manager or coach. He sowed the seed early on in our coaching career."