Bundesliga: Bayern Munich coach Pep Guardiola sets sights on more goals
Pep Guardiola has expressed his desire to get Bayern Munich scoring even more goals in the Bundesliga next season.
Last Updated: 04/07/13 4:49pm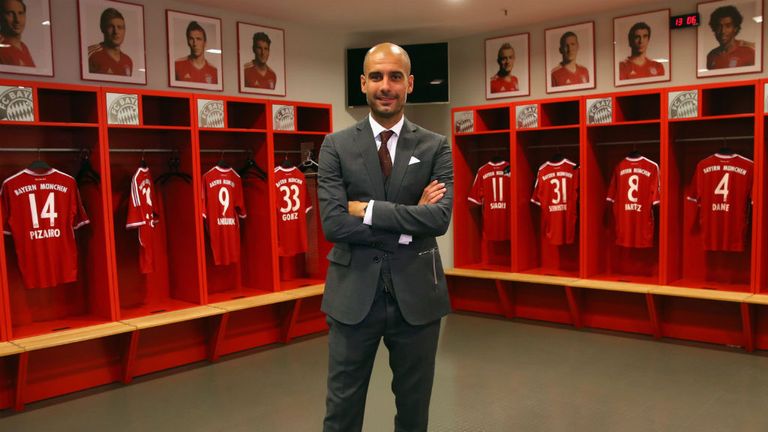 The former Barcelona boss has to find a way to take a side forward which won a Bundesliga, DFB-Pokal and Champions League treble under Jupp Heynckes last season.
The Spaniard will get a close look at his new side in the coming days after they arrived at their pre-season training camp in the Italian town of Riva del Garda.
"The most important thing is, the players can get to know me and I the players," Guardiola said at a press conference.
"I have ideas and have to convince my players of them."
Bayern scored 98 Bundesliga goals last season, but Guardiola still wants them to be more prolific in front of goal.
The 42-year-old added: "I don't like it when the opposition team has the ball. I want to have the ball. And we want to make sure we score more goals.
"We can play with recognised strikers and false strikers. It depends also on the physical condition of the players, which system I will choose."
Guardiola admits he cannot afford to make a slow start in Bavaria.
"I am at a big club and at a big club you don't get time," he added. "You have to work well from the start to win people over. It is not the best place to not be winning."
Guardiola, though, sees himself being at Bayern for the foreseeable future.
"I want to stay here for a long, long time," he said.
Meanwhile, Claudio Pizarro has signed a one-year contract extension at the club.
The striker returned to Bayern from Werder Bremen on a one-year deal last May and was pleased to be able to stay on under Guardiola.
The Peruvian told the club website: "I am 34 - I could think of nothing better than signing another contract at Bayern Munich.
"I am convinced we will have a good year together.
"What will happen in a year I can't say. But I feel very good and would like to play football for as long as possible."