Arsenal's aggressive transfer plans excite Mikel Arteta
Mikel Arteta says he is "excited" by Arsenal's plans to be more aggressive in the transfer market this summer.
Last Updated: 16/07/13 11:32am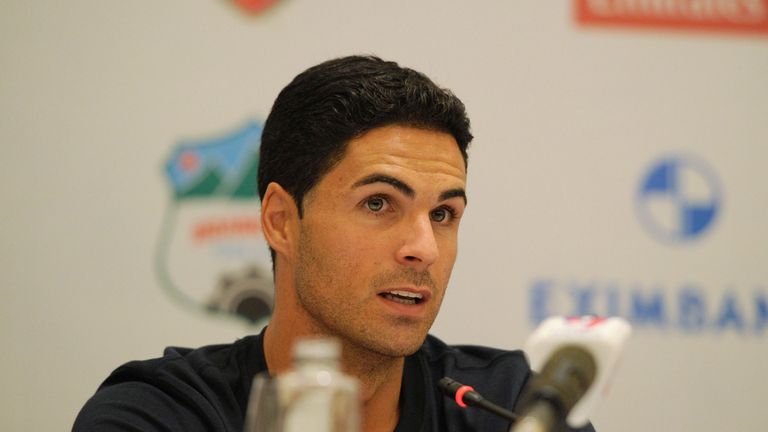 The Gunners have made no secret of their intention to significantly bolster their squad this summer and are already understood to have made bids for Liverpool's Luis Suarez and Real Madrid's Gonzalo Higuain.
Although there have been no arrivals yet, other than France Under-20 striker Yaya Sanogo's arrival on a free from Auxerre, Arteta admits he is encouraged by the Gunners' statements of intent.
Speaking to the media from Hanoi, where Arsenal are preparing to face the Vietnam national team in their next pre-season tour friendly on Wednesday, the Spaniard said: "I am excited. They made it public that they are going to go big, and the sort of players they have been linked with makes me happy."
Arteta added that, with new faces seemingly on the way, his team-mates are similarly upbeat about their chances of success next season.
"It creates a good atmosphere and we need to do something because the other teams are doing it, and I think we will," said the 31-year-old.
"I believe we can be contenders again. The fans need that because we haven't won trophies in the last years. They need something back.
"I believe in what we have but if we can strengthen a bit, then we are going to make the gap with the other teams much closer. That's what we're looking for."
Arteta believes the combination of increased spending power and the great traditions at Arsenal will make them a serious player in the battle to sign top names.
"When you compare us to the other top English clubs and the money they have paid, we are very far apart," he admitted.
"The value of this club is the class and what it means is very difficult to match."