Luis Suarez should snub Arsenal and stay at Liverpool, says Graeme Souness
Graeme Souness would find it hard to understand Luis Suarez's decision if he left Liverpool for Arsenal.
Last Updated: 25/07/13 9:25am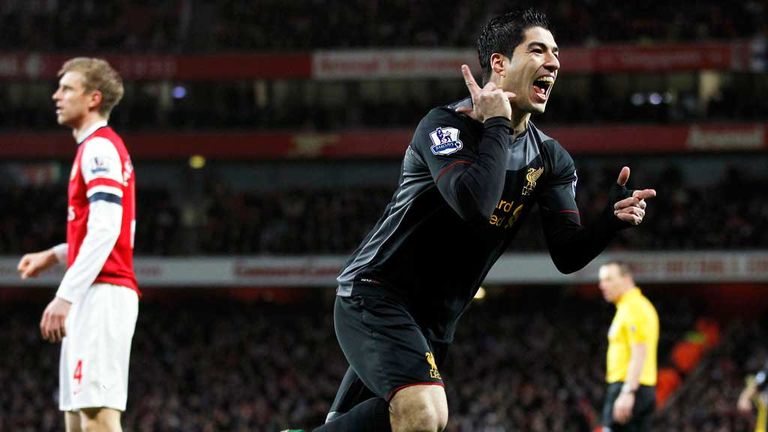 The Sky Sports pundit was speaking after his former club turned down a £40million offer from their Premier League rivals for the unsettled striker, who has stated his desire to play in the Champions League next season.
Souness, who has both played and managed at Anfield, says he would not be upset if Suarez was sold to a European powerhouse like Real Madrid, but says it would be tough for the supporters if he ended up at a club that finished three places ahead of them last season.
"There is no better football club in England than Liverpool," he told Sky Sports News.
"There is no better group of supporters than they have at Liverpool. For me - and I know I'm totally biased - but I go to these big modern stadiums throughout the country and Liverpool still generates the best atmosphere. I think the supporters are more understanding than anywhere else.
"For me he should stay at Liverpool and be a company man and try to get them into the Champions League. His goals would go a long way to helping them do that.
"I would fully understand it if Real Madrid came knocking and he really dug his heels in and said he'd got to go because it's a chance to go back to a Latin country.
"Real Madrid are, right now, arguably the biggest club in the world and that I could understand and live with that.
"But leaving Liverpool and going to another English team is not going to endear himself to any Liverpool supporter."
Embarrass
And Souness says it will take an enormous offer to tempt them to sell Suarez to a Premier League rival because the player could potentially "embarrass" his former employers next season.
"It's very hard for Liverpool to sell Suarez to another English team," he added.
"It's a bit like Wayne Rooney going to Chelsea. I think ideally if they are going to leave their football clubs they'd like to sell them outside the Premier League.
"For Luis Suarez, the ideal move for him would be to Real Madrid, going back to a Latin country and his mother tongue and to one of the biggest teams in world football.
"For Luis Suarez to go to Arsenal would be a great signing for them because whoever gets him are going to get a great football player, but I think it's hard for Liverpool to sell him there. The supporters would not be too happy with that.
"If Wayne Rooney goes to Chelsea, what's guaranteed is that he would embarrass Man United and what's guaranteed is that Suarez would embarrass Liverpool when they play against each other if he was to go to Arsenal."
Lump
Managing director Ian Ayre is set to hold further talks with Suarez this week and Souness says the club must swiftly line up a replacement if they decide to sell their prized asset.
He likened the situation to the £50million sale of Fernando Torres to Chelsea in 2011 and the subsequent capture of Andy Carroll from Newcastle for an inflated £35million; a scenario he says Liverpool must avoid this time.
Souness added: "Liverpool had the problem previously when they sold Torres to Chelsea and ended up with a big lump of money.
"Then whoever they go and buy - and it was Carroll - they ended up getting their trousers taken down and ended up paying too much.
"That's the problem when you sell a big player. You end up with this big lump of money and whoever you try and buy there is a premium to be paid.
"That's the problem they're faced with, but that's something Ian Ayre will be fully aware of. Ideally, if he was to go he would maybe be getting someone in before they actually announced he's gone, so they're not paying that premium."