Rio Ferdinand impressed by new Manchester United signing Wilfried Zaha
Rio Ferdinand is impressed by the impact Wilfried Zaha has made in the early weeks of his Manchester United career.
Last Updated: 27/07/13 1:38pm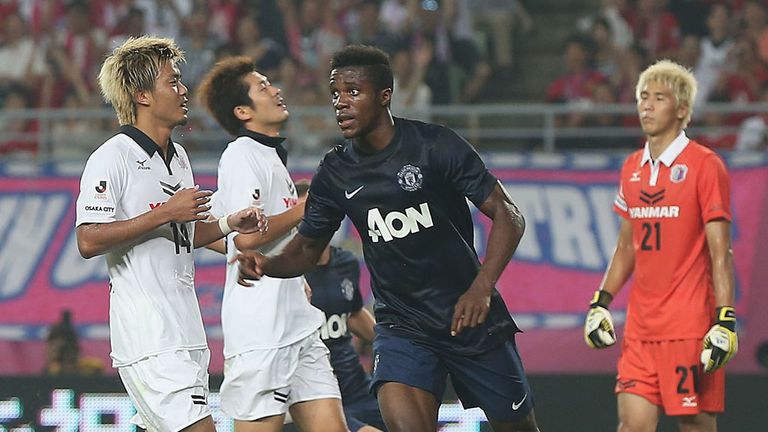 Zaha has caught the eye in a couple of United's pre-season friendlies, and scored a late equaliser in Osaka on Friday against J.League side Cerezo.
Ferdinand admits Zaha lacks experience, but he is confident the winger - signed from Crystal Palace - can make a real impact this season.ar.
"Wilfried is a fantastic talent. That is why you pay £15m for a kid," said Ferdinand. "He is raw, with great individual skills and the early indications are that he is a hard worker.
"He wants to be a top footballer and he wants to improve. With those attributes, that desire and the influences he will have at this club, hopefully we will have a top player on our hands.
"Wilfried can take people on from a standing start.
"He is quick and direct but what has surprised me more is that he gets his shots off.
"I have not watched him loads but obviously he is a winger who has a hunger to get inside and drive into the opponents' box. That is a good thing to have."
Zaha's equaliser indicates United's famed ability to score dramatic late goals remains, despite the retirement of Sir Alex Ferguson.
And Ferdinand says that attitude must survive into the new era of David Moyes.
"We never know when we are beaten," said Ferdinand. "That Wilfried came on and scored a late goal like that shows what the Manchester United spirit is like. It is still there and it is still roaring strong."
United are yet to make their move in the transfer market this summer, with Barcelona insisting Cesc Fabregas will not be leaving.
Ferdinand though is confident United will challenge on all fronts even if United fail to land a big-name signing this summer.
"I always have confidence in the players around me," said Ferdinand. "I look at our dressing room and I am confident with what we have.
"If the manager wants to add to that, great. But as players, we are here to play football.
"The manager is the one who picks the team and buys the players so no matter what my opinions are, they have no bearing.
"But we did win the title last year. What more do you want?"