Transfer news: Gareth Bale confirms desire to leave Tottenham for Real Madrid
Gareth Bale has told Andre Villas-Boas he wants to leave Tottenham to join Real Madrid in a world-record deal.
Last Updated: 31/07/13 10:08pm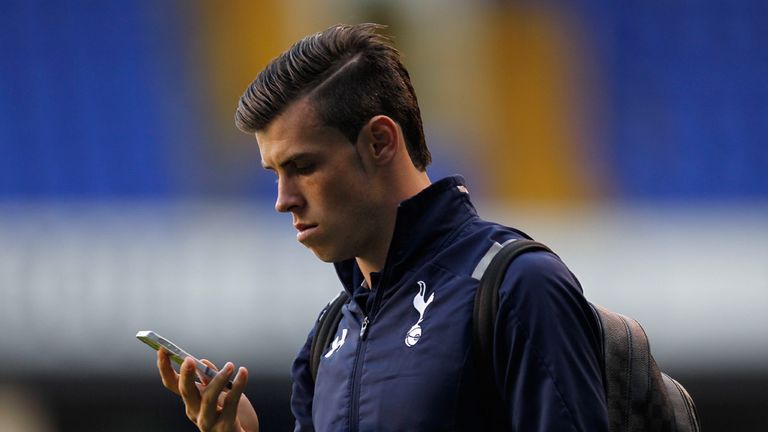 Spurs are yet to comment on the offer of more than £85m lodged by Real several days ago and have not wavered publicly on their stance that the player is not for sale.
In the meantime, Bale spent around five hours at the club's north London training centre on Wednesday and underwent treatment on a muscle injury, departing shortly after 2pm.
And, according to Sky sources, the 24-year-old took the opportunity while there to confirm his desire to leave for Spain.
Villas-Boas said at the weekend he was hopeful of having Bale fit for a friendly against Monaco this Saturday, but the concern now for Tottenham supporters is whether last season's double Player of the Year will be around for the start of the new season.
One former Spurs player, Jamie Redknapp, told Sky Sports' Football Season Preview show he believes it is now inevitable Bale will leave for Madrid, saying the club "always sells at the right price."
Real's charm offensive continued on Tuesday when Sergio Ramos joined club captain Iker Casillas and director Zinedine Zidane in talking up a move.
And Kaka joined the chorus of approval from the club's tour of the United States on Wednesday, saying: "If he comes he will be welcome. He's an amazing player with a lot of tricks. We're happy if he comes."
Former Bernabeu favourite Michael Laudrup, meanwhile, said on Wednesday he believes Bale has "the technical ability to play there" but would have to cope with the added pressure of playing in front of 90,000 home fans every other week.
Real's offer is understood to be for cash despite reports suggesting former Spurs midfielder Luka Modric might form part of any deal.
Watching from the sidelines are Bale's former club Southampton, who are in line to pocket 2.5% of any transfer fee.
But that pales in comparison to the 15% sell-on they are believed to have agreed at the time of his 2007 move to White Hart Lane.
Southampton waived that clause at a time when they were in financial difficulty, instead receiving around £1.5m and goalkeeper Tommy Forecast, and now stand to earn just £2m as opposed to £13m if Real sign Bale.
During Tuesday night's Football Season Preview show on Sky Sports, Redknapp said the new offer made by the La Liga giants makes sense for Spurs and the player.
"Real Madrid are the biggest club in the world how can he turn it down?" said Redknapp. "I also believe Tottenham are a selling club, their history would suggest that. You go back to Michael Carrick, Modric and Berbatov - they do tend to sell.
"They always sell at the right price and I think there will be a conversation between Daniel Levy and Joe Lewis and I can only see one outcome - and that is he will be a Real Madrid player."
Real defender Ramos has also had his say on the situation and, speaking on the club's US tour, said: "I think the mixing of veteran players as well as young players is a great philosophy.
"Not only as a team but in providing young people for some of us who have been here for so many years.
"Facing up to the challenges, and in that sense, those who are in a position to decide will leave us with our job to do.
"I think they have to work that out with (Real coach) Carlo Ancelotti, they must decide whether they need more players."
On Tuesday, Real keeper Casillas also spoke out in favour of Bale moving to La Liga, saying: "We are talking about one of the top three or four best players in Europe and it's normal that his name is being discussed."
And even Barcelona's Javier Mascherano has backed Bale to be a success in Spain.
"Always when players with quality come it is very good for the league," he told Fox Sports.
"Bale is a player that has shown in the last three years that he is one of the best in his position."