Marcelo confirms Gareth Bale would be well received at Real Madrid
Real Madrid defender Marcelo has confirmed Gareth Bale would be well received at the club should he move to Spain.
Last Updated: 03/08/13 12:54pm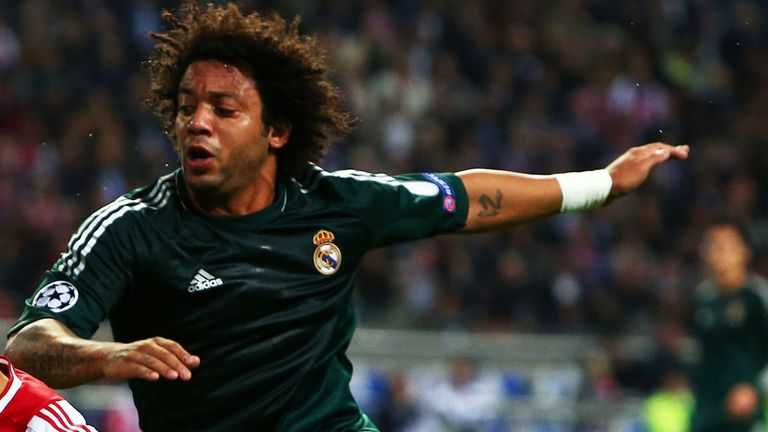 Madrid have reportedly offered £95m for the Wales international following weeks of speculation regarding Bale's future with Spurs.
And while Marcelo admits he rates Bale, the Brazil international was wary of commenting too much on the situation.
Marcelo said: "I've played against him. He's a great player. But I don't know him that well.
"It's up to the club really. I'd rather not say who should or shouldn't be on the team.
"If you ask me about a player who is already here I'll answer you. But a player who is not yet in the team, I've got nothing to say.
"If he does come to Madrid he'll be welcome."
Real coach Carlo Ancelotti confirmed on Thursday that they had begun transfer discussions with Spurs for Bale, who has reportedly told manager Andre Villas-Boas he wants to leave the club.
"We will see what happens; it is between the two clubs," said Ancelotti. "Right now our team is very strong and we will have to see what happens in the future."
Former Real president Ramon Calderon, who broke the world transfer record to sign Cristiano Ronaldo from Manchester United in 2009, feels it will be difficult for Spurs to keep Bale.
"You never know but when the player is willing to leave, it is not easy to keep him when he wants to go," he told Sky Sports News.
"We had the same with Robinho when he wanted to leave in 2009. After that, you just have to try and get as much money as you can.
"Spurs don't want the player to go, but it seems that the player has decided to leave, so it will be difficult. The figure being talked about is a huge amount of money."
And former Spurs boss Harry Redknapp also believes that Bale will join Real, commenting: 'I think it'll be difficult for him not to go now.
"I think he wants to go if we're truthful. He doesn't want to say it, but I hear from different sources that he really wants to go now.
"When you're a kid and you start playing football you dream about playing for Real Madrid. When I was a kid I saw that great team of Ferenc Puskas, Francisco Gento, Alfredo Di Stefano.
"Real Madrid is a special club. The chance to run out at the Bernabeu only comes once in a lifetime, as Zinedine Zidane said the other day, you can't not take it.
"He is behind Messi and Ronaldo in terms of being the best player in the world. If he goes there, he will be a great success there. I am sure of that."
Roberto Soldado, who is set to become Spurs' record signing when he completes his move from Valencia, concedes it will be hard to keep Bale at White Hart Lane.
Speaking to reporters at the airport as he boarded a flight to England, Soldado said: "I think everybody knows about Gareth Bale. He's a great player. It will be hard to keep him but I hope he stays with Tottenham."
Double Player of the Year Bale's recently-departed Spurs team-mate Steven Caulker reckons the 24-year-old has earned the right to move.
Caulker, now at Cardiff, told Sky Sports News: "It's a tough call, but if he does go fair play to him, he really deserves it. I wish him all the best."