Premier League: Chelsea boss Jose Mourinho wants fans to focus on the team
Jose Mourinho has called on Chelsea's fans to focus on supporting the team after a rousing reception on his return.
By Rob Parrish - Follow me on Twitter @skysportsrobp
Last Updated: 19/08/13 7:18am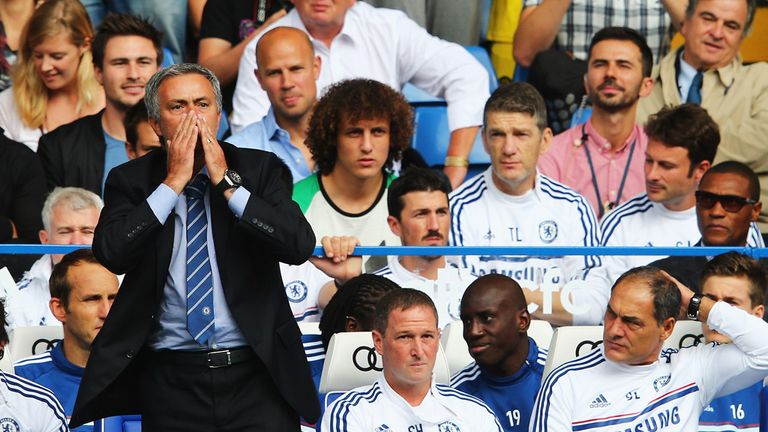 The Portuguese boss accepted the plaudits of the supporters before, during and after Sunday's routine 2-0 victory over Hull City, but now feels the players should be given more backing.
He told Sky Sports: "It was fantastic, it is something you don't forget. It makes me think I made the right move by coming back - I am one of them, so I am so pleased and so happy.
"But I think it is enough. I need my team to be supported. I need them to sing my players' names, I need them to push Chelsea all the way. Enough Mourinho and come on Chelsea.
"I know they love me, that is one of the reasons why I am back, but now it is my time to work for them and for them to support the team."
Oscar and Frank Lampard found the net in the first half against the Tigers, with the England midfielder also seeing an early penalty saved as the hosts threatened to run riot.
Hull improved after the break as Chelsea's intensity dipped, but Mourinho was more than happy with the opening 45 minutes from his side.
He added: "There is no doubt we deserved the victory. It was a brilliant first half with high intensity, high quality, great movement, great football.
"With the first half, it is no surprise that the second half could not be the same because the first was outstanding.
"The intensity of our game went down because our pre-season was not an easy one and this week most of our players were involved with their international teams.
"The game was always under control, but in the second half the quality of our game went down a bit. I am happy with the victory and I am happy because what we did in the first half was good.
"Our creative players had very good understanding, very good movement and I think the football was brilliant. If we had been 3-0 or 4-0 ahead at half-time it would not be surprising."