Premier League: Jose Mourinho calls on Chelsea to 'destroy' opponents
Jose Mourinho wants Chelsea to 'destroy' opponents by maintaining the intensity they showed early on against Hull City.
Last Updated: 21/08/13 7:16pm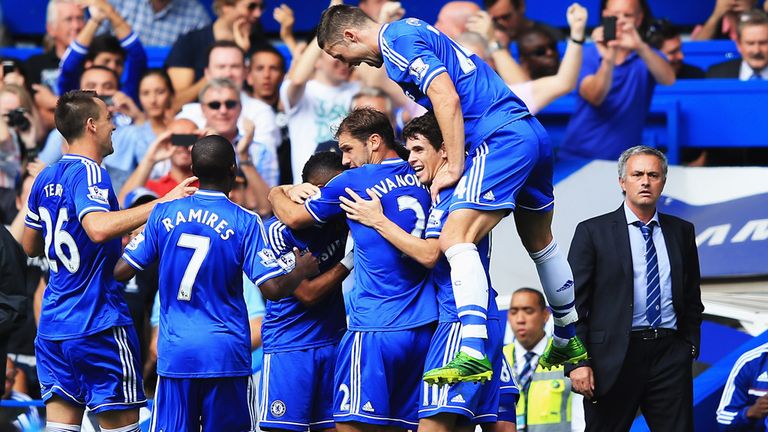 The Blues, who were scintillating at times early on in their 2-0 win over the Tigers on Sunday before taking their foot off the gas, host Aston Villa in the Premier League on Wednesday night.
Villa's most recent trip to Stamford Bridge was on December 23, when they were thrashed 8-0, a result which Villa boss Paul Lambert has vowed will not be repeated.
Mourinho believes it would be difficult for any team to live with his side at the intensity with which they began the season and hopes the Blues can produce the same performance, but for longer.
"If we do that, we destroy an opponent," he said. "Playing that way you have to score goals, even if the opposing goalkeeper saves a penalty.
"We want to win matches, but what I like is that when you have the chance to destroy to beat them by three, four, or five, we have to do it.
"If someone has the chance to do it to you, they will not forgive you, they will give you nothing.
"If someone feels that they can do it to us they will do it - when you are in trouble, they smash you - so if we have the chance to do it, we have to do it. That is football."
Mourinho was thrilled by his team's performance in the early stages against Hull before Eden Hazard, Oscar and Kevin de Bruyne "disappeared" in the second half.
That was attributed to the international break after a long pre-season, but with Juan Mata, Victor Moses and Andre Schurrle waiting in the wings, Chelsea have the capability to sustain the intensity.
Mourinho added: "This is a style of play very much adapted to our type of players.
"We can use these players all the time, even with a busy schedule we can change things and keep the same profile of player.
"If we can keep that style of play together with the ambition of getting points, I think it is all right."