Roy Hodgson sure of Wayne Rooney focus ahead of England's World Cup qualifiers
Roy Hodgson is confident the continued speculation over Wayne Rooney's future will not be to England's detriment.
Last Updated: 27/08/13 5:32pm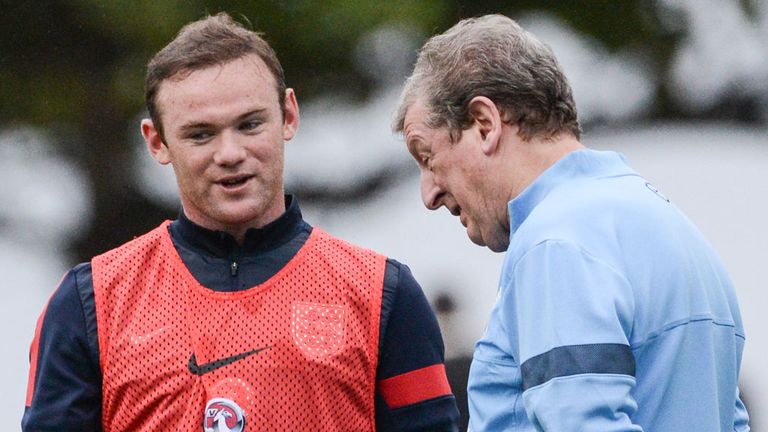 Rooney was an expected inclusion in Hodgson's squad for the forthcoming games against Moldova and Ukraine, hours after starting for Manchester United against his suitors Chelsea on Monday night.
After seeing two bids for the striker rebuffed, Blues boss Jose Mourinho gave Rooney an ultimatum over his next move following the goalless draw at Old Trafford.
But Hodgson believes the 27-year-old, who is now not expected to hand in a transfer request, has retained the mental focus to remain key to England's hopes of reaching Brazil next summer.
"He's an important player, he's been a fantastic servant for a good number of years now and he's still got the burning ambition to do well," Hodgson, speaking at a press conference on Tuesday, said.
"A fully fit, match-fit Wayne Rooney is important to the country but he's also important to his club and it's important to Wayne himself because the man loves to play football and he's the first onto the pitch and the last off it.
"I think Wayne Rooney has been under a lot of scrutiny since he was about 17 years of age. If anyone is equipped to deal with scrutiny it is Wayne Rooney.
"I'm sure that (Manchester United manager) David Moyes had no worries or concerns whether he would do anything other than give his best or play to the very best of his ability last night just as I never had any concerns he would do the same for us.
"That is the nature of the man, that is the nature of the player."
Hodgson also gave his backing to goalkeeper Joe Hart, whose position as first choice at Manchester City has been called into question after a number of high-profile recent errors.
"We all know that goalkeepers and strikers are the ones in the firing line," Hodgson added.
"And if anything goes even marginally wrong they're the ones that everyone turns to and looks at to blame so I'm sure Joe is confident enough and big enough to understand these things.
"Goalkeepers like Joe at a top team like Man City don't necessarily get a lot to do. Joe with England, (at) certain times, doesn't get a lot to do so every time you make a mistake it's highlighted. I accept that, I'm sure he has.
"As far as I'm concerned I have every faith in Joe Hart. When I took the job on I thought I had a top-class goalkeeper to work with and 16 months later I still think I've got a top-class goalkeeper to work with.
"I'm pretty sure he'll soon be getting the headlines for all the right reasons again."