Liverpool boss Brendan Rodgers salutes Notts County's effort in Capital One Cup
Brendan Rodgers saluted the efforts of Notts County after Liverpool needed extra-time to see off the League One side.
Last Updated: 28/08/13 8:05am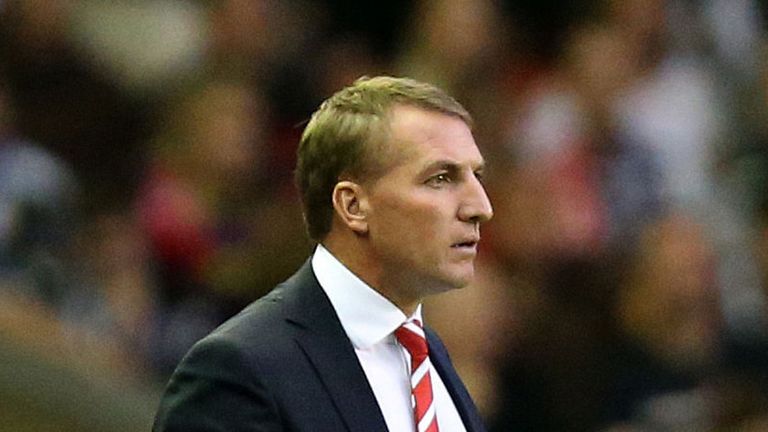 The Reds appeared to be cruising at the break through goals from Raheem Sterling and Daniel Sturridge, but a second-half comeback from the visitors took the game to extra-time where Sturridge and Jordan Henderson spared Rodgers' blushes to seal a 4-2 win.
Liverpool have now enjoyed victory in their opening three games of the season, but Rodgers was quick to praise his side's lower-league opponents after a remarkable game.
"It was a real interesting game because we were so in control in the first half and at the beginning of the second half," he told Sky Sports.
"I think I can only give plaudits to two groups really. One is my players because with ten men and being pegged back to two each, to show that character and commitment and fight to want to get through, it's a big credit to them.
"I think you have to give a big credit to Notts County because at 2-0 down here at Anfield, we're in good form at the minute. It was a great fightback for them and that will bode well for their season because they showed great character and quality.
"We've seen it in football before - 2-0 is always a dangerous scoreline no matter who you're against. We're obviously disappointed with the goals we conceded and our management of the game, but across the board, we're glad to get through."
Liverpool lost Aly Cissokho, Joe Allen and Kolo Toure to injury during the game, something which Rodgers bemoaned as he prepares for the visit of Manchester United.
"I don't think it's overly good to be honest," he admitted.
"Young Cissokho was devastated. He shouldn't be too long, he's just got a nick on his ankle, but obviously it was early on in the game and he'd actually made a good run that created the space for the goal so he was distraught to come off in his first start here.
"Joe Allen may well be a hamstring so we'll have a look at that and obviously Kolo Toure, we'll need to assess it but his groin has opened up a wee bit.
"We'll know more in the morning but as I said, it wasn't a good night injury-wise."
The game saw Sturridge continue his rich vein of goalscoring form and Rodgers hailed the impact the striker is currently having on his team.
"The idea was to give Dan a game tonight because he's nowhere near to full fitness yet so we're trying to get him game time and minutes under his belt as well as his training," he said.
"He's a great finisher, he's one of the top strikers in the Barclays Premier League and I think we'll see that over the course of the season.
"He got his finish tonight and I think Jordan Henderson got a terrific goal as well in that period so we actually managed the game well with 10 players. The most important thing was to get through. We didn't expect it to be like that but we got through so we're in the hat."
Rodgers was also asked about any potential movement in the transfer market and he says that he is still on the hunt for further additions.
"We're certainly looking at ins, we're hoping to get a few players in and that will continue right until the end of the window," said Rodgers.
"There's no amount of players wanted, we're just looking to get quality players in and if we can do that, we'll be happy."