David Moyes sure Marouane Fellaini will succeed at Manchester United
David Moyes is certain deadline day capture Marouane Fellaini will be a big success at Manchester United.
Last Updated: 04/09/13 5:39am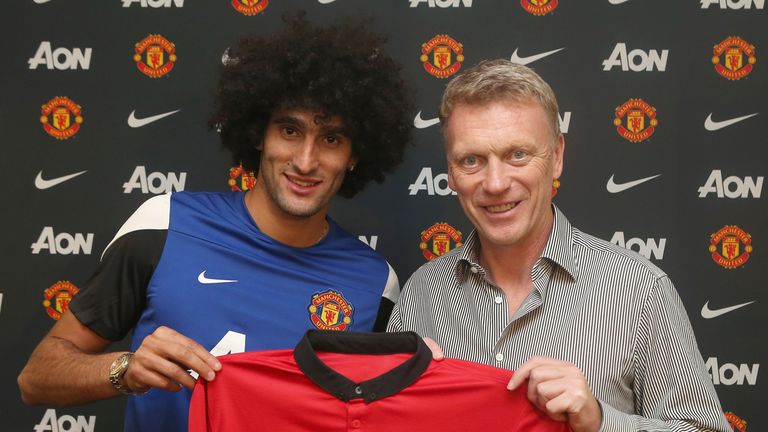 Moyes had a fairly quiet summer transfer window but Monday's shambles over the non-deal for Ander Herrera was somewhat forgotten when he raided former club Everton for the big Belgian midfielder.
Fellaini cost United £27.5m, more than he would have done a couple of weeks ago when a release clause in his contract was allowed to expire, but Moyes is not worried about the pressure the sizeable fee brings with it.
"Marouane is not someone you want to be playing against," Moyes said.
"He has attributes other people don't have. And with those qualities he has, I am sure he will be a big player for Manchester United."
The United boss is also pleased with the flexibility Fellaini brings, and is not committed to playing him in midfield all the time.
He added: "He can play higher up the field if we need him to, just behind a main striker.
"He can play as a defensive or holding midfield player. In fact he is comfortable in any position in the middle of the field.
"It was definitely a position where people would say we were short, not just of numbers, with the likes of Paul Scholes retiring and Darren Fletcher not being ready to come back just now. I am glad we have got him."
Meanwhile, Fellaini earlier revealed that he "jumped at the chance" to work with Moyes again following their time together at Everton.
After securing his move, Fellaini said: "I am thrilled to sign for Manchester United.
"I have known the manager for many years now and I have a lot of respect for his way of working.
"When I was given the opportunity to work with him again, I jumped at the chance.
"I had a fantastic time at Everton and I'd like to thank all the fans and staff there for everything they have done for me.
"But being a Manchester United player is something that every player dreams of and I believe that I can make a real contribution to the team's efforts to win trophies in the future."