Ian Black banned for three matches, with seven suspended, for breaching betting rules
Rangers midfielder Ian Black has been handed a three-match ban for breaching betting rules.
Last Updated: 12/09/13 5:56pm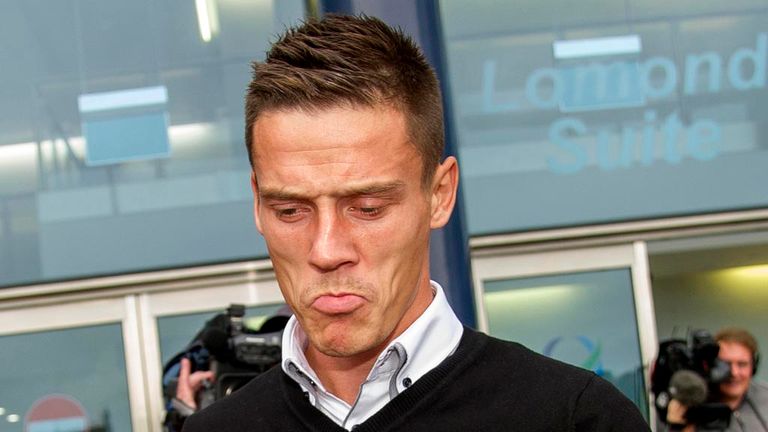 Black, who has five days to appeal his punishment, has also been fined £7,500 for the offence.
At a hearing at Hampden Park on Thursday, Black admitted charges of betting on his then-registered club not to win three times between 4 March 2006 and 28 July 2013.
The 28-year-old former Hearts and Inverness CT player also admitted betting on a further 10 matches which involved his own club and he received a warning over bets he placed on a further 147 fixtures.
It is the first time a player in Scotland has been punished for breaking gambling regulations and the suspended seven-match ban will be served if Black breaks the rules again this season.
Black played for Inverness until 2009 before spending three years at Hearts and then moving to Rangers last year.
No breach of rule 23
The disciplinary tribunal outcome stated that there was no evidence to suggest he had breached rule 23, which prohibits players and officials knowingly behaving in a "manner, during or in connection with a match in which the party has participated or has any influence, either direct or indirect, which could give rise to an event in which they or any third party benefits financially through betting."
And Black's lawyer Liam O'Donnell issued a statement which read: "I wish to clarify that Ian Black received a censure in respect of betting on 147 games that did not involve his own team.
"He received a 10-match ban (seven suspended to the end of the season) in relation to 13 games involving his own team.
"In fairness the general nature of these bets was relatively small sums on fixed odds coupons and multiple game accumulators."
Rangers released a statement which said: "Rangers Football Club notes today's verdict by the Judicial Panel, which has imposed a 10-match ban and £7,500 fine on Ian Black.
"Three of the matches will be served immediately - meaning the player would miss games against Arbroath, Queen of the South and Forfar - and a further seven games will be suspended until the end of the 2013/14 season.
"Black would be free to return to action against Stenhousemuir on Saturday, 28 September, 2013."
Wishart calls for clarity
PFA Scotland's chief executive Fraser Wishart has called for a clarification of the rules regarding betting.
"I think we have to have an open and frank discussion," he said.
"Now is the time for all stakeholders to get together. In my time as a player, no one ever told me about club rules and about the rules which affected me.
"Perhaps the players need to take a bit responsibility for that but I think every stakeholder in the game, including ourselves as players' union, have to take responsibility for that.
"It's now in the public domain, so let's have a chat about it, let's have a review."