West Ham boss Sam Allardyce frustrated by Mark Noble's dismissal in Everton defeat
Sam Allardyce felt referee Lee Mason cost West Ham against Everton, with Mark Noble's red card the turning point.
Last Updated: 21/09/13 6:06pm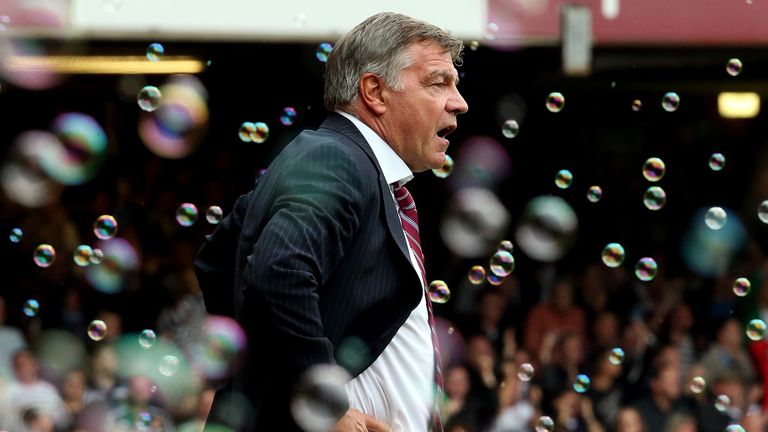 The Hammers, who brought to an end their long wait for a Premier League goal, were undone in the final nine minutes against the Toffees.
They led 2-1 entering the closing stages, but saw Noble collect a second yellow card for a foul on Ross Barkley and the game suddenly swung in Everton's favour.
Two fantastic free-kicks from Leighton Baines and a powerful header from Romelu Lukaku ultimately left them empty-handed, but Allardyce believes it was the performance of the match officials which hit them hardest.
He told Sky Sports on the decision to dismiss Noble: "He's played the ball actually. I've just had five or six looks at it before I've come out and I think the lad has took the chance to go down on the tackle, but you see Mark Noble plays the ball first and then the lad goes down.
"I know it looks like a free-kick but, from where the referee is, he has got to be absolutely certain in that area and the fact that it's Mark Noble, because he's going to get sent off.
"I think he made a huge mistake there. Mind you, other people might see it different.
"If you look at the other free-kicks today that he didn't even give as fouls, in terms of consistency, I thought he was very inconsistent today - in particular that decision for us.
"Because of Bainesy hitting the first one, he's hit the second one even better and it's very costly for us today because not only have they scored but he's also got sent off in a 2-1 position. So, very frustrated for the players, very disappointed on that decision and we have to pick ourselves up.
"We kept Everton to the minimum today - as good a side as they are and the money they have spent over the years, where they finish - we kept them to the bare minimum of chances and if it wasn't for Bainesy today with two outstanding free-kicks, I think we might have won the game."
Allardyce added on what his side could have done differently: "What we should have done is not get a man sent off, but I'm not too sure that's Mark Noble's fault more than the referee's.
"I could say to Mark Noble don't make the tackle, but it's difficult for me to say that when the lad is out there playing and thinks he's going to get it and play the ball.
"It's a cruel blow for us today but one we have to take on the chin and bounce back from."