Ruud Gullit says Chelsea should start Juan Mata and play better football
Ruud Gullit has criticised Chelsea's style and can't understand why Juan Mata is being left out of the team.
Last Updated: 21/09/13 8:05pm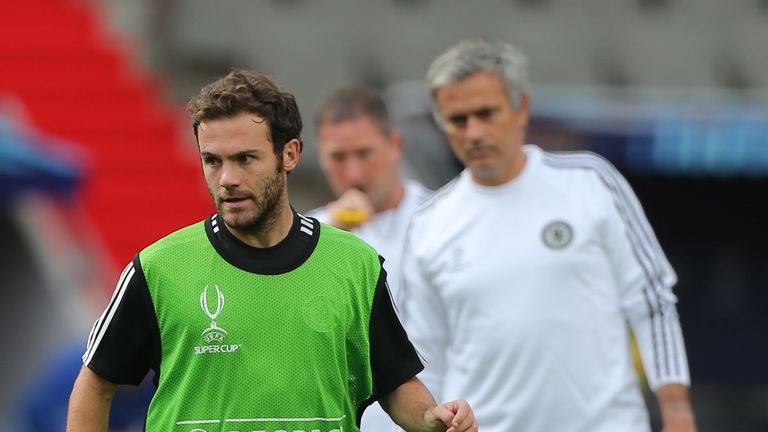 The Spaniard, Chelsea's Player of the Season in the last two seasons, did not even earn a place on the bench for Saturday's 2-0 win over Fulham in which Oscar thrived in the number 10 position.
And Gullit, who both played for and managed Chelsea in the 1990s, says Mourinho should try to use all of the talented players at his disposal rather than relying on a negative tactical approach.
"He was one of the best players last year, therefore it's something personal," Gullit told Saturday Night Football.
"I live in Holland and we watch a lot of games in the Premier League and we've seen a lot of Chelsea games.
"The criticism that most people have in Holland is that with the team and all the names they have, they haven't played good football. They have played very defensively.
"We saw it in the first match. The first half against Hull was unbelievable and the second half was terrible. You win 2-0, but it's not what you expected from a team with these sorts of names.
"Then we saw them against Bayern Munich and it was defence almost all the game. It's not something we expect from Chelsea, not from this team.
"I think they can play much better football than they've shown. It's sometimes too tactical. With the players he has you don't need to be like that. You can be a little bit more adventurous.
"He took that out by not playing Mata. Oscar is a great player, I agree with that, but I'm afraid everything becomes too tactical."
Oscar opened the scoring against Fulham and his all-action display won him the Sky Sports Man of the Match award.
And while Gullit was full of praise for the Brazilian, he sees no reason why he couldn't play alongside Mata in the Chelsea attack.
He added: "It was not a question of Oscar or Mata. We love Mata as well and Mourinho is right to have so much confidence in Oscar.
"In the first half there was no spark at all from Chelsea and his goal helped them to get into the game."
Doubts
Gullit also said he is sceptical about Mourinho's chances of repeating the success he enjoyed in his first Chelsea spell when he led the club to back-to-back Premier League titles.
He added: "They asked me four months ago what I thought about Mourinho coming back and I already had my doubts about it because it's not easy to do the same thing twice.
"I had my doubts also because at Real Madrid he didn't manage to do the things that made him so strong - and that's man-management.
"He had a difficulty there and for that reason he tried to create a war that he could not win. He acknowledged that in the end and Chelsea was the way to get out of there. But can you do it again? It's difficult.
"He is not there to nurture; he is there to win and nothing else. He wants to win and he is eager to win and has the same drive.
"But can you do it? Everyone knows him now. Everyone knows all the tricks that he makes to try to wind the opposition up.
"Also the Premier League has changed. More teams are there to win the title, so for that reason it's more difficult than it has ever been."