Gareth Barry believes Everton team-mate Leighton Baines is 'world class'
Gareth Barry considers Everton team-mate Leighton Baines to be the complete full-back and a 'world-class' talent.
Last Updated: 23/09/13 3:33pm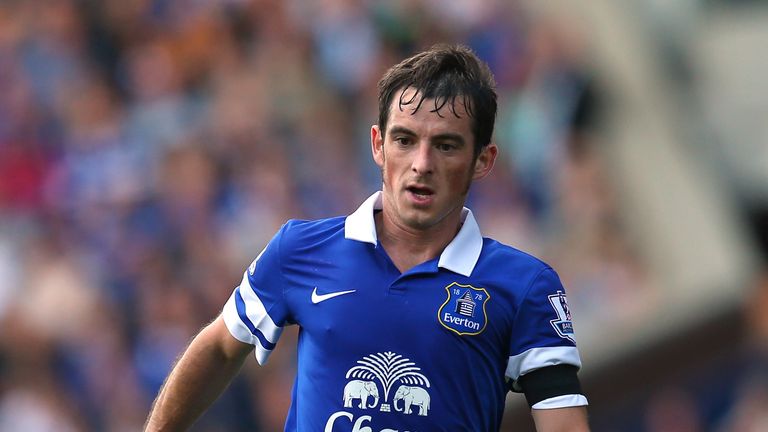 Baines has long been regarded as one of the finest left-sided defenders in England, and has been capped on 19 occasions by his country.
He is unfortunate to find himself competing with Chelsea's Ashley Cole for international recognition, but remains very much the main man at club level.
The 28-year-old, who was heavily linked with Manchester United over the summer, showed his worth again on Saturday as he netted two spectacular free-kicks in a 3-2 Premier League victory at West Ham.
After that contest, Barry said in the Liverpool Echo: "I've seen from training with him at England and playing against him that Bainesy is a class act.
"You can put him in the world-class bracket when he's doing things like that. Two free-kicks in exactly the same spot in different sides of the goal - there's not too many players in the world who can do that.
"He's not just got that ability to go forward and score penalties and free-kicks, though. He's so solid at the other end as well and if you speak to Sylvain Distin, I'm sure he loves playing alongside him for his defensive duties too.
"He's been very consistent for a number of years."
Justified
Barry has been working alongside Baines since joining Everton on loan from Manchester City, and the 32-year-old midfielder is delighted to have swapped life on the bench at the Etihad Stadium for that in the spotlight at Goodison Park.
He added: "I'm hoping that the more I play and the fitness comes up, the confidence grows.
"Winning games will bring confidence too and I'm really enjoying it. Being unbeaten is great and the longer we can keep that going the better.
"I had no doubt I was making the right decision to come here after speaking to the manager.
"We've got a good core of British players and I love training with them each day. The dressing room is very good and the first couple of weeks have justified my decision."