Chelsea assistant Steve Holland says Juan Mata should trust Jose Mourinho
Chelsea assistant first-team coach Steve Holland has advised Juan Mata to place his trust in Jose Mourinho.
Last Updated: 25/09/13 5:38pm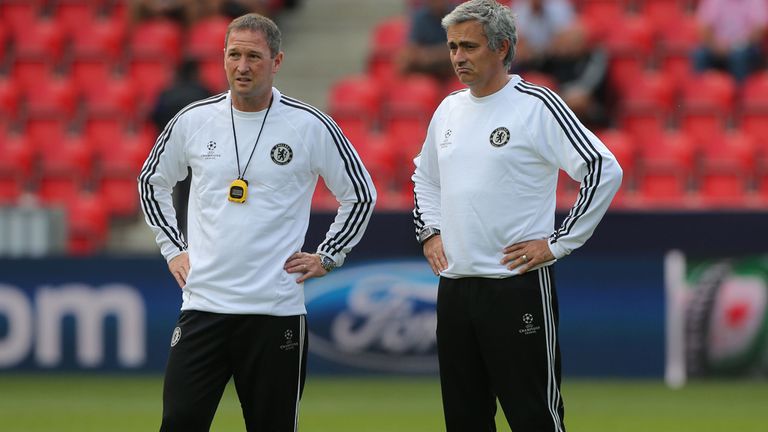 Mata will feature for Chelsea in Tuesday's Capital One Cup tie at Swindon Town, with Mourinho telling the World Cup winner to prove his worth at the County Ground.
Holland has backed the Portuguese to further improve Mata and cited the example of Cristiano Ronaldo, who improved his game under Mourinho at Real Madrid.
"He (Mourinho) is always pushing, pushing the players to the maximum every day," said Holland. "That's evident not just in his teams, but in the individuals he's worked with.
"If you look Jose's three-year period working with Ronaldo, he's really evolved as an individual. He's not just a talented dribbler and runner with the ball who can score goals.
"He has become a top-level match-winner who wants to run in behind, make runs, threaten the goal.
"I don't think that just happens. That comes with pushing, even if it's the best.
"On a day-to-day basis, he (Mourinho) will be pushing for signs of improvement, working to progress the individual but ultimately for the benefit of the team."
Adapting
Mourinho has spoken about adapting Chelsea's style of play and with Oscar his preferred playmaking number 10, Mata is tasked with a wide-right role which necessitates tracking back in defence.
"Having to adapt - and Jose has used that phrase - is nothing particularly new here," said Holland.
"It's another adaptation that is required. Juan has shown in his time here that he's more than capable of doing that. And I'm sure that will be the case this time."
Holland says the style Mourinho employed at Real Madrid relies much on movement off the ball, and is convinced it will reap rewards back at the Bridge.
"The challenge, when the balance is loaded offensively like that, is that you don't just play with the ball, you have to play without the ball as well," Holland added.
"That's a challenge he (Mourinho) clearly managed to do (at Real Madrid), given the results that he had.
"He's quite clear in his mind, given the success he's had, what is his recipe for success. I'm quite sure that can be achieved here as well."
Watch Swindon Town v Chelsea live on Sky Sports 2 from 7.30pm on Tuesday.