The FA reveal they saved £2m following the departure of Fabio Capello
The Football Association saved £2million following the departure of Fabio Capello as England manager.
By Bryan Swanson
Last Updated: 24/09/13 8:28am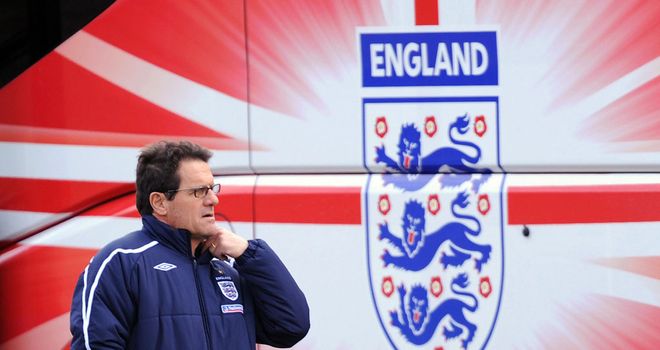 The FA's annual accounts, until 31 December last year, reveal that they made a seven-figure saving following a change of coaching staff.
But the FA have not disclosed the amount of Capello's pay-off after he left in February last year and was replaced by Roy Hodgson in May.
Capello's contract was due to expire in July 2012 and his contract was believed to be worth £6m a year.
The Financial Review states: "Club England's total expenditure remained consistent with 2011 at £21m, with savings in the senior men's coaching staff offset by increased tournament costs from the UEFA Euro 2012 finals."
Figures show that Club England's operating expenses - including the salaries of the England manager and his coaching team - decreased from £8m to £6m in 2012.
Costs rose from £13m to £15m after the European Championships in Poland and Ukraine, where England reached the quarter-finals.
"Roy earns less than Fabio did," said Alex Horne, FA General Secretary. "The deal with Fabio is confidential.
"In reality, because we were without a manager for a period, we didn't pay Fabio any more than we would have done in the period that we didn't have a manager.
"We paid him a small amount of money as severance but it was less than what we would have paid him if he had stayed working until the European Championships, significantly.
"Roy started work just before the Euros, so we saved money."
Turnover
The FA's annual turnover was £318m - down from £329m - in the last financial year after fewer games were played at Wembley and the stadium was a venue for the 2012 Olympic Games.
The Champions League final was staged at Wembley in 2011, where Barcelona beat Manchester United.
"We didn't lose money (because of the Olympics)." said Roger Maslin, Wembley Stadium's managing director.
"We had to make sure we were no worse off financially for a typical season and facilitate what we could. We didn't have the summer of concerts that we had in 2011."
The FA say they are under no financial pressure to qualify for next year's World Cup in Brazil and that they will not lose a significant amount of money should England fail to progress out of their qualifying group.
"We already have major deals until 2018." said Horne. "We don't lose money on tournaments but we don't make much money on them either. But, bear in mind, we are going to qualify."
Wembley's current debt is £267m, with loan repayments on-going, and stadium officials say the pitch will cope with demands from the NFL and England in the next three weeks.
The Minnesota Vikings face the Pittsburgh Steelers on Sunday, 12 days before England play Montenegro in a World Cup qualifier, and Wembley officials would embrace an NFL franchise on a permanent basis.
"We have an exclusive arrangement with the NFL until the back end of 2016," said Maslin.
"We'd be very happy to facilitate games every couple of weeks but clearly we have to look very carefully at the calendar and make sure we have the right balance.
"Football is our priority. But, if Roger Goodell (NFL Commissioner) wanted a franchise, I'm absolutely confident we could deliver it."
Wembley officials would also welcome the chance to stage the Super Bowl, should the NFL ever decide to take it overseas.
"They are a very progressive organisation," said Maslin. "Long, long-term, they might consider it but it's a hell of a call. If they are bringing it anywhere in the world we would want it here at Wembley."
Meanwhile, Wales has joined England and declared an interest in bidding to host the final of Euro 2020 along with Belgium, Germany and Spain.
The FA acknowledges that Istanbul is the favourite after it lost out in its bid for the 2020 Olympic Games.
"We have taken some soundings and there's sympathy for Turkey." said Horne. "I would say they are the front-runners."