Premier League: Leighton Baines must wait for new Everton deal
Roberto Martinez expects Leighton Baines to get even better, but the left-back must wait for a new Everton contract.
Last Updated: 24/09/13 12:48pm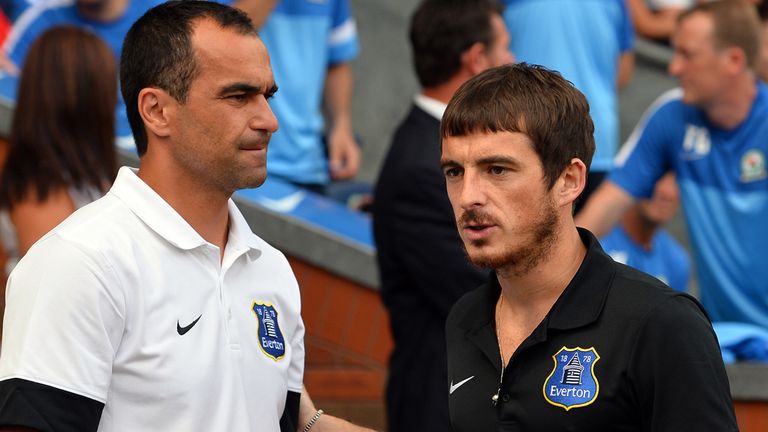 Baines' brace of free-kicks helped the Toffees to a 3-2 turnaround victory at West Ham in the Premier League on Saturday and underlined his value to their cause.
The England defender was a top target for Manchester United during the transfer window as Everton chose to reject a series of bids from former manager David Moyes' new club.
The 28-year-old is now in line for a bumper pay rise at Goodison Park when contract negotiations get underway, but will have to wait for the improved terms to be signed and sealed.
"At the moment, all we are focusing on is games and any individual contracts or situations are put aside," said Martinez.
"In the last two games, once the window was closed, it's closure and he can concentrate on his football.
"In the last two games, Leighton has been sensational - probably because he's been able to relax and enjoy his football. To be able to score goals from dead-ball situations is a massive strength in any team and he's in a moment where the next three or four years will be the best in his career.
"Behind the scenes, we're happy with the situation and we're making sure he's happy as well."
Stubbs' comments
United's pursuit of Baines throughout the summer was back on the agenda last week when Everton Under-21s manager Alan Stubbs claimed that the player had wanted to join the champions but that the Merseyside club had "dug its heels in".
Martinez has brushed off Stubbs' comments, however, adding: "Everyone is entitled to an opinion and can say what they feel and I think that was a private comment, not an official statement.
"You could ask any player in the squad if they would like to play in the Champions League, and everyone could have a private comment about that.
"Alan Stubbs is an employee of Everton but he's an ex-player as well and sometimes people can get mixed up about his views as an ex-player and they're not necessarily the same as the Under-21s manager.
"Sometimes private thoughts or conversations can be taken out of context. If a club matches a player's valuation, a player needs to make a decision, but that was never the case.
"There was a lot of speculation about Leighton but no-one ever matched his valuation. If you ask any of my players if they'd like to play in Barcelona against Real Madrid or the Champions League final, I would like to play in a Champions League final - but it doesn't mean anything."