Premier League: Brendan Rodgers backs Sturridge-Suarez partnership at Liverpool
Liverpool manager Brendan Rodgers believes Luis Suarez's return to match action will only benefit Daniel Sturridge.
Last Updated: 29/09/13 3:39pm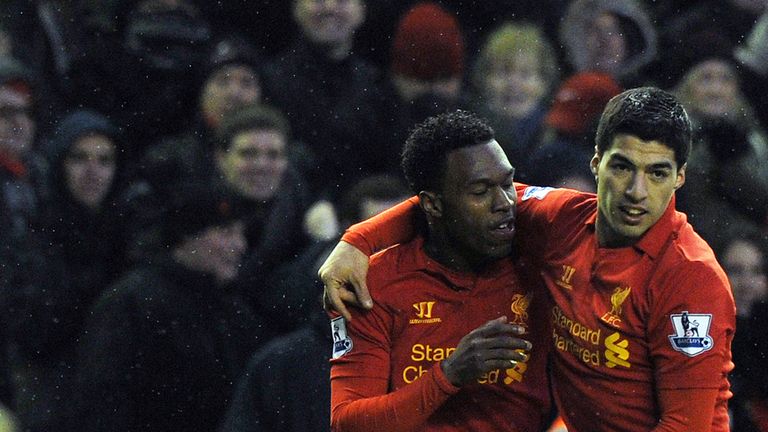 Suarez returned from a 10-match ban in Wednesday's Capital One Cup defeat at Manchester United in midweek.
Rodgers is expected to call upon Suarez's services again when Liverpool travel to Sunderland in the Premier League on Sunday, and he hopes the chemistry between the Uruguayan and Sturridge will get better as the season progresses.
"I think it will only improve him (Sturridge) and make him a better player. Good players want to play with other good players," said Rodgers.
"I think you will see with how they will perform together that they can be a real threat.
"It is not something that Daniel or anyone else will be worried about. Their focus is on the team.
"It is my job to manage the dynamics and the structure of the team.
"We looked at a different system (3-5-2) the other night which would suit the players who were available and after a few days' preparation and then a performance like that at Old Trafford, it clearly showed we can work in that way if we want to.
"For Daniel and Luis, it worked really well. I have no worries about that.
"We have been able to work on real-game situations in training (during Suarez's suspension).
"There has been a lot of relationships which have been formed in training and the fluency of the team the other night was excellent.
"That will get better over time and of course, once they play in the games."
The Liverpool manager was quick to underline the growing importance of Sturridge to the Liverpool side insisting the England striker poses a real threat to defenders despite not being at peak fitness.
"There is no taking (him) out. Even when he is not 100% fit he is still an amazing player, a player who will put defenders on the back foot," added Rodgers.
"He is a player who is very important for our team, he is a real catalyst at that top end."