Happy Tim Krul committed to Newcastle
Tim Krul has told Sky Sports that he is committed to Newcastle United and is 'really happy' on Tyneside.
By Graeme Bailey - Tweet me: @graemebailey
Last Updated: 28/09/13 8:18am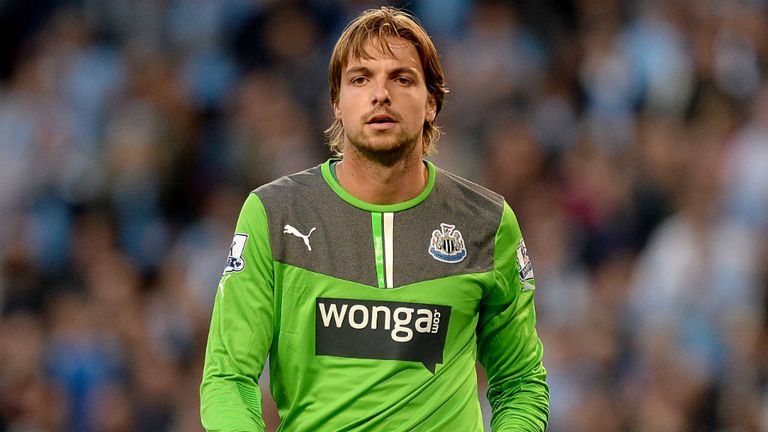 The Dutch international goalkeeper is a product of Newcastle's own youth system, having joined as a 17-year-old from Den Haag.
Krul has emerged as Holland's first choice and one of the Premier League's top goalkeepers since becoming Newcastle number one back in 2011.
Over the last 18-months Krul's name has been linked with some of Europe's top sides - but he is adamant that he is happy at the club.
"What the papers write I don't take notice any more, I have got a four years contract at Newcastle, I'm really happy," he told Sky Sports News.
"I love playing for this club, so I just focus on myself and getting a good season this season and then hopefully going to the World Cup."
Krul describes Newcastle as his 'second home' and does not think many clubs can match the atmosphere that he gets with St James' Park.
"It is my second home, I have been here eight years now, it's a second home and second family. Playing in front of 52,000 Geordies is a fantastic feeling and I don't think many clubs can beat that."
Disappointment
Newcastle have had an up and down start to the new season, and their last game - a home loss to Hull City - was a huge disappointment for everyone at the club.
"The first game [of the season] against City, was a hard game and everyone knew that - they have brought in a lot of top quality players and we knew it would not be easy but after that we kicked on," he said.
"But then Hull City and that was a missed step and we have to take it on the chin, but we gave it away really. Sometimes you have to take that hit and it's perhaps a wake up call as you can't take anything for granted.
"We are ready now, it was a mistake and we are looking forward to Monday."
Newcastle face Everton in Monday Night Football, and Krul admits that Everton's consistency in recent years is something Newcastle should look to copy.
"I like the manager [Roberto Martinez] a lot, I like his style of playing and he did a fantastic job at Wigan and it will be a hard game, it is always hard at Goodison and I am looking forward to the game," he continued.
"They are a good example, they have been in the top half for years. Two years ago we had a fantastic season, but unfortunately we haven't had a good season last season - but they are a good example and somewhere where we want to get to."